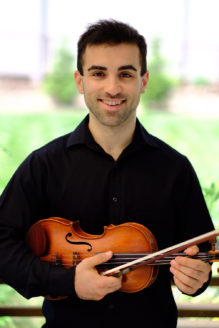 Adam Birke
Nassau Rehearsal Supervisor
Adam Birke is a violinist and private music instructor from Baldwin, NY. He holds a Bachelor's in Violin Performance and a Master's in Musicology from the Aaron Copland School of Music at CUNY Queens College, where he studied violin with Dr. Anne Yarrow.
Since 2005, Adam has had extensive experience teaching violin, viola, and piano, as well as tutoring music theory, analysis, ear training, and history for people from ages 3-65 in individual and group settings. In addition to his work in music, he has also been a fitness coach since 2010 and is in demand as a coach, instructor, and presenter for his exemplary ability to engage with children and adults alike.
Adam is the Assistant Concertmaster of the South Shore Symphony. He led as Concertmaster in the 2017 production of The Nutcracker and will return to reprise this role in 2018. He will also be featured in March of 2019 as a soloist, alongside Catherine Fish for a performance of Bach's Concerto for Two Violins.
Adam has played with numerous other ensembles including The Saxophone Project, Molloy College Community Orchestra (Concertmaster), the Queens College Orchestra, the Queens College Chamber Orchestra, and the Connecticut Virtuosi Chamber Orchestra. He is also an alumnus of the Metropolitan Youth Orchestra of New York (Concert and Principal) and considers his experience with MYO to be instrumental in his development as a serious musician and in his decision to pursue music professionally.