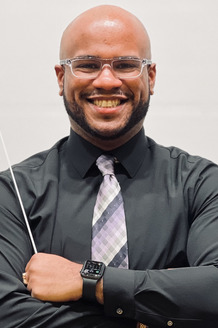 Rudy Johnson | MYO Coach
Mr. Rudy Johnson is a band director and hornist from Long Island, NY. Mr. Johnson received his undergraduate degree in Music Education from SUNY Fredonia, where he studied French horn with Dr. Marc Guy. He is currently working on a Master of Science degree in Music Education at Queens College's Aaron Copland School of Music. Mr. Johnson is an in-demand horn player, having performed with the South Shore Symphony Orchestra, Massapequa Philharmonic, Brooklyn Symphony Orchestra, Atlantic Wind Symphony, and Long Island Wind Ensemble.
As an educator, Mr. Johnson is well-versed and accomplished. He has served as both the jazz band director and marching band director at Patchogue-Medford High School since 2016, where his ensembles have regularly achieved NYSSMA Level VI Gold and Gold with Distinction ratings. In addition to his public school teaching, Mr. Johnson maintains a private teaching practice, and has served the music education community at the Usdan Summer Camp for the Arts, the Long Island Music Festival, with his active membership in NYSSMA, NYSBDA, and through his involvement with SCMEA.