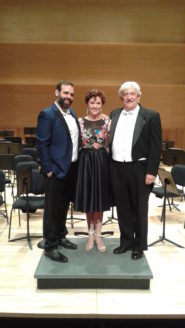 Congratulations and thank you to all of our MYO Alumni and High School Seniors for their fantastic performances with the Alumni Choir and Orchestra on Sunday, June 12, 2016 at the Adelphi University Performing Arts Center!
It was wonderful to hear you all again under the direction of MYO Conductors Shoshana Hershkowitz, Edward Norris, Phil Preddice, and Scott Stickley. Special Mention to our Alumni Choir Pianist and MYO Board President Sandra Baskin.
Warm thanks to our guest soloists, tenor Dimitri Pittas and soprano Leah Edwards for their enchanting performances!
Be sure to save the date for the next Alumni Concert on Sunday, June 11, 2017 at Adelphi University Performing Arts Center!
Download the 2016 Alumni Concert Program
To see more about what our alumni are up to, check out our Where Are They Now page