ABOUT THE ENSEMBLE
The Nassau Concert Orchestra, led by Music Director Peggy Ho, is open to string, woodwind, brass, and percussion students who have successfully completed a NYSSMA Level 5 or 6 solo. The Nassau Concert Orchestra members range in age from middle school through high school seniors. This ensemble rehearses and performs standard and arranged symphonic repertoire.
---
ABOUT THE MUSIC DIRECTOR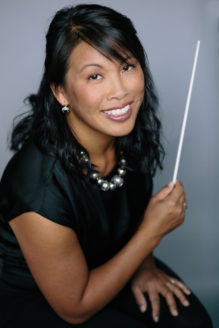 Peggy Ho began her musical training on clarinet, piano and violin in grade school. She holds a Bachelor of Music in education and clarinet performance from Ithaca College, a Master of Arts in music history from LI University, a Master of Arts in conducting from Hofstra University and Doctorate in music education from Teachers College, Columbia University. Her clarinet teachers include Naomi Drucker, Richard Faria and Ayako Oshima Neidich. Having traveled extensively throughout the world, Dr. Ho has performed as principal clarinetist with the North American Elite Youth Orchestra, the Long Island Youth Orchestra and performed with the Rome Music Festival. She has guest conducted regional and district orchestras throughout New York. Her interest in the expansion of the performance education programs to include portfolio and project based assessment have led her to share her thoughts as presenter at various music conferences, including the Winter NYSSMA Conference, Balanced Curriculum Mind Conference, NYSBDA Symposium. Dr. Ho is a featured educator in NYSSMA's DVD, "Music Views" and has been published in "School Music News." She is currently the Director of Bands at the Wheatley School in East Williston, NY.
---
LISTEN
---
PAST SEASON REPERTOIRE
Repertoire performed by the Nassau Concert Orchestra in the 2022-2023 season included:
Aboriginal Rituals– Elliot Del Borgo
Angelus and Bohemian Festival, from Scènes Pittoresques – Jules Massenet, arr. Vernon Leidig
Kabalevsky Suite – Dmitry Kabalevsky, arr. Grant Hull
Marche Slav, Op. 31 – Pyotr Ilyich Tchaikovsky, arr. Geoffrey Tomlinson
Procession of the Nobles, from Mlada – Nikolai Rimsky-Korsakov, arr. Merle J. Isaac
Slavonic Dance № 3 – Antonín Dvořák, arr. Merle J. Isaac
Symphony № 1 in C Major, Op. 21 (First movement – abridged) – Ludwig van Beethoven, arr. Merle J. Isaac
Variations on a Shaker Melody – Aaron Copland