ABOUT THE ENSEMBLE
The Suffolk Symphonic Choir, led by Music Director Brad Drinkwater, is a mixed choir that debuted in the 2013-2014 season. The ensemble performs a wide variety of choral literature that spans many cultures, styles, and time periods. Singers in the ensemble should be of high school age and have experience singing in school choirs and at NYSSMA solo festivals.
---
ABOUT THE MUSIC DIRECTOR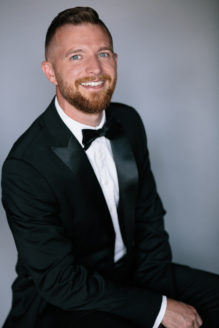 Brad Drinkwater has been teaching music, including 7th through 12th grade mixed and treble voice choirs, for nearly 20 years. He currently teaches choir and music theory at Connetquot High School in Bohemia, where he also directs the annual Alumni Choir. Brad served as the pianist for the MYO Suffolk Symphonic Choir from its inception in 2013 until his appointment as the inaugural director of the Suffolk Senior Treble Choir in 2019. He is delighted to be making music with the Suffolk Symphonic Choir once again, now as music director.
Under his leadership, the Connetquot High School Concert Choir has appeared at American Choral Directors Association, New York State School Music Association, and New York State School Board Association conferences and won 2nd place in the 2020 American Prize national performing arts competition. Brad was also chosen as a semifinalist for the 2021 Grammy Music Educator Award. Additionally, Connetquot's annual Choral Arts Day event was selected by Music for All as an Advocacy in Action award recipient.
Brad received his bachelor's degree in Music Education, with dual concentrations in voice and piano, from New York University and later earned a Master of Arts degree from Teachers College, Columbia University. At NYU, he studied with David Elliott, Francisco Nuñez, and Deirdre O'Donohue and served as the Assistant Director and pianist for the NYU Children's Choir. He was also recognized at the International Championship of Collegiate A Cappella for both arrangements and vocal performances.
Brad enjoys working as a conductor, singer, and collaborative pianist, performing throughout Long Island—including as a member of the eVoco Voice Collective. Most importantly, he shares his love of music with his wife, Lauren, and their two sons.
---
ABOUT THE PIANIST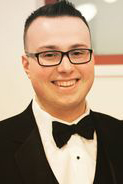 Joseph Franzino holds a Bachelor of Music Degree in Piano Performance and a Master of Science Degree in Music Education from the Aaron Copland School of Music at Queens College. During his time in Queens, Joseph studied piano under the instruction of Morey Ritt and voice with Sidney Outlaw. Throughout his college career Joseph performed in various recitals, chamber music ensembles, and has played many times as a collaborative artist. He is a winner of the Aaron Copland School of Music Concerto Competition, in which he was selected to perform the Edvard Grieg Piano Concerto. In addition to actively performing throughout college, Joseph was also a member of NYSSMA-NAfME (National Association for Music Education) and MEANYC (Music Educators' Association of New York City). During Joseph's final year at Queens College he served as the NYSSMA-NAfME Collegiate President for New York State.
Joseph currently teaches Music Theory, General Music, and Chorus for the Farmingdale School District. He also serves as an accompanist for multiple choirs, the NYSSMA solo festival, and for the Tri-M senior recital. Joseph has vocal directed musicals for Howitt Middle School and co-advises the Farmingdale High School chapter of the Tri-M Music Honor Society. In addition to working for Farmingdale, Joseph maintains a private piano studio.
---
LISTEN
---
PAST SEASON REPERTOIRE
Repertoire performed by the Suffolk Symphonic Choir in the 2022-2023 season included:
All Things New– Elaine Hagenberg
Death Came A-Knockin' (Travelin' Shoes) – African American Spiritual, arr. Ruthie Foster and Paul Rardin
Go Down, Moses – African American Spiritual, arr. B.E. Boykin
Myr, Zaraz (Peace, Now) – Joan Szymko
Ngothando – Mbuso Ndlovu
Shenandoah – Traditional American Folk Song, arr. Kevin Memley
Verdurõn – Traditional English Channel Islands Song, arr. Randy Haldeman
Walk in Jerusalem – African American Spiritual, arr. Rollo A. Dilworth
When I Rise Up – J. David Moore
Where the Light Begins – Susan LaBarr
Yo Le Canto Todo El Dia – David L. Brunner