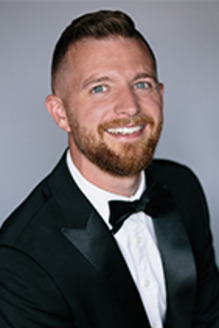 Brad Drinkwater
Suffolk Symphonic Choir | Music Director
Brad Drinkwater has been teaching music, including 7th through 12th grade mixed and treble voice choirs, for sixteen years. He presently teaches choir and music theory at Connetquot High School in Bohemia, where he also directs the Alumni Choir. Brad served as the pianist for the Suffolk Symphonic Choir from its inception in 2013 until his appointment as director of the Suffolk Senior Treble Choir in 2019.
Under his direction, the Connetquot High School Concert Choir has appeared at American Choral Directors Association, New York State School Music Association, and New York State School Board Association conferences and won 2nd place in the choral performance category of the 2020 American Prize national performing arts competition. Brad was also recognized as a semifinalist for the 2021 Grammy Music Educator Award. Additionally, Connetquot's annual Choral Arts Day event was recognized by Music for All with an Advocacy in Action award.
Brad received his bachelor's degree in Music Education, with dual concentrations in voice and piano, from New York University and later earned a Master of Arts degree from Teachers College, Columbia University. At NYU, he studied with David Elliott, Francisco Nuñez, and Deirdre O'Donohue and served as the Assistant Director and pianist for the NYU Children's Choir.
He enjoys working as a conductor, singer, and collaborative pianist, performing throughout Long Island—including as a member of the eVoco Voice Collective. Most importantly, he shares his love of music with his wife, Lauren, and their two sons.