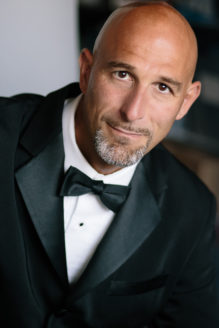 Craig B. Knapp
Nassau and Suffolk Treble Choirs | Music Director
Craig B. Knapp is the current Elementary Music Department Chairperson in the Rocky Point School District where he has been teaching Classroom Music and Chorus, grades 3 through 5, at the Joseph A. Edgar Intermediate School since 1998. A graduate of the Crane School of Music, Mr. Knapp has also studied with distinguished educators and musicians including John Feierabend, Jos Wuytack, Henry Leck, Francisco Núñez, Janet Galván, Will Schmid and Bobby McFerrin. Craig is an Adjunct Assistant Professor at Hofstra University where he teaches "Conversational Solfege" and "First Steps in Music with Orff Schulwerk." Craig is also the director of the  Early Childhood Community Music Program at Stony Brook University, where he instructs children in Pre-K through 6th grade. He is the co-author of the book, First Steps in Music with Orff Schulwerk: Sing, Say, Dance, Play and a contributing author for the book, Feierabend Fundamentals: History, Philosophy, and Practice.
With his innovative and energetic approach to music education, Craig Knapp directs the Metropolitan Youth Orchestra of New York's Children's Treble Choirs, where he has conducted at Carnegie Hall and Lincoln Center. He has conducted several commissioned pieces by renowned composers including Nick Page, Jim Papoulis, Melissa Keylock and Jill Friedersdorf. Mr. Knapp is also the director of the Stony Brook University Summer Youth Choir. Craig has presented elementary classroom music and choral workshops at various music education conferences, including national conferences for NAfME (National Association for Music Education), ACDA (American Choral Directors Association), OAKE (Organization of American Kodály Educators), AOSA (American Orff-Schulwerk Association) and FAME (Feierabend Association for Music Education). Craig is a sought-after clinician and choral conductor and has guest conducted for the Connecticut Music Educators' Association Elementary Honors Choir, New Hampshire Music Educators' Association Elementary Honors Choir, KONY (Kodály Organization of New York) "Voices United" Festival and Pennsylvania Music Educators' Association Elementary ChorusFest. He has also guest conducted various All-County chorus groups in New York State for the Dutchess, Monroe, Nassau, Rockland, Schoharie, Suffolk and Ulster County Music Educators' Associations.
Mr. Knapp's choral ensembles have performed annually at NYSSMA Major Organization Evaluation Festivals since 2003, where they have received consistent "Gold" and "Gold With Distinction" ratings. Mr. Knapp frequently has students participating in various American Choral Directors Association's Children's Honor Choirs, and, in the Organization of American Kodály Educators' National Children's Choirs.
Mr. Knapp is a Past-President of SCMEA (Suffolk County Music Educators' Association). Craig is actively involved with NYSSMA (New York State School Music Association), currently serving on their Curriculum Committee. He served as the Administrative Program Coordinator for the Orff-Schulwerk and Summer Music Studies Program at Hofstra University from 2005-2019 and served two terms as the Membership Chairperson for LIAOSA (Long Island Chapter of the American Orff-Schulwerk Association) from 2013-2017. Craig is a Lifetime Member of OAKE. He is also a Lifetime Member of ACDA and served three terms as chairperson for the ACDA Eastern Division Elementary Honor Choir. For the New York Chapter of ACDA, Craig served two terms as Children's Choir Repertoire & Standards Chairperson and two terms as Long Island Regional Representative. Mr. Knapp is also a founding member of FAME where he is a Lifetime Member and currently serves on their Board of Directors as President-Elect. Craig is the only educator to simultaneously hold Lifetime Memberships in ACDA, FAME and OAKE.