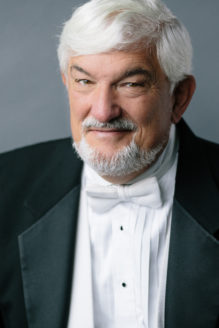 Phil Preddice
Suffolk Principal Orchestra | Music Director
Phil Preddice is a graduate of the Crane School of Music where he studied viola with Lamar Alsop, Theodore Israel, and Maurice Baritaud. His conducting studies were carefully guided by Professor Brock McElheran. Performances under the batons of Eugene Ormandy, Stanley Chappel, Christopher Keene, and Aaron Copland inspired Mr. Preddice to reach for new heights as a conductor. He has been the conductor of the Suffolk Principal Orchestra since its formation in 2008.
Mr. Preddice is the founding and Principal Conductor of the Crane Alumni Festival Orchestra. This ensemble, founded in 2014 performs concerts to raise scholarship funds for students wishing to pursue advanced music studies at the Crane School of Music at SUNY Potsdam. Mr. Preddice is a composer, with several works premiered by the MYO Suffolk Principal Orchestra.
Mr. Preddice is a past President of the Suffolk County Music Educators' Association. Additionally, he has held executive Board Positions with the Long Island String Festival Association, and the New York State American String Teachers' Association. He is currently retired from a career as Orchestra director in the Commack, Shoreham-Wading River, and Three Village school districts.
Mr. Preddice is the recipient of the 2000 Helen Hosmer Excellence in Music Teaching Award, granted by the Alumni Association of the Crane School of Music at SUNY Potsdam.
Music is always being played in the Preddice household. Wife Susan, daughter Alisa, son Jon, and daughter Leanne are all Music Teachers and active local musicians. Susan and Phil have 10 grandchildren, all of whom play the violin, viola, or cello. The Preddice Family String Quartet plays for brides and grooms throughout Long Island and the Metropolitan NYC area.
When he is not composing or conducting, Mr. Preddice can frequently be found fishing on a quiet Adirondack pond or surf casting the rocky shoals of Montauk.