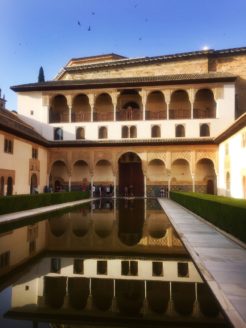 Although we had to wake up at 6:30am, our visit to the Alhambra in Granada started off with a bang. We drove a short distance to the Moorish-style complex of palaces and gardens built by the Moors between the 9th and 14th centuries. Decades later, the Catholic Spanish monarchs made additions to the space to make the look of the structures fit with the time period. The palaces sprawl on a hill above the rest of Granada and act as a fortress (alcázar), like many other Spanish cities. The Generalife Gardens were designed in a typical Moorish fashion, with small fountains that are always holding water. There are areas of the garden where fruit and vegetables were grown and continue to be cultivated, just as they were hundreds of years ago. The palaces become increasingly ornate as you enter them, culminating with the Sultan's audience chamber and the Court of the Lions.
After our visit to the Alhambra, we returned to the hotel for a quick rest and lunch. Then, we headed past the Alhambra to our concert venue for the evening, the Auditorio Manuel de Falla. The performance was met with a full house and standing ovation to everyone's delight.
For a change, we took a scenic walk back to the hotel instead of riding the bus so that we could see the modern part of Granada's town. Upon arriving back to the hotel, we retired for the night after a long day's activities.
Please Like our Facebook page and follow us on Twitter for the most up-to-date MYO news!