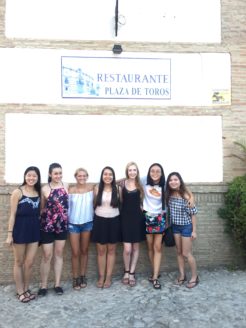 Hoy vosotros manejamos a la ciudad de Málaga. Aunque sólo pasamos un corto tiempo allí, fue una ciudad muy bonita. Málaga es cerca del mar asi que puedes ver el mar Mediterráneo. Algunas personas montó una rueda de la fortuna para ver la ciudad desde el cielo.
Málaga es el lugar de nacimiento de la artista famosa, Picasso. Hay un museo de su pinturas en el pueblo con turistas lined up afuera de la puerta para entrar.
[Translation: Today we drove to Málaga. Although we only spent a short time there, it was a very beautiful city. Málaga is close to the ocean so you can see the Mediterranean Sea from there. Some tour members rode a ferris wheel to see the city from the sky.
Málaga is the birthplace of the famous artist Picasso. There is a museum of his paintings in the town with tourists lined up outside in attempts to get inside.]
After visiting Málaga, we took a short drive to the small town of Antequera, where our fourth concert of the tour was held. We rehearsed at the venue, La Colegiata de Antequera (which is considered to be a national monument!), and then walked to El Restaurante Plaza de Toros for dinner. Today happened to be the birthday of two tour participants, so at the end of our meal, cake was brought out and the entire tour group sang happy birthday to them!
Shortly after, we returned to the concert venue to play a concert for the people of Antequera. They were very enthusiastic about our orchestra and choir's performances, and we ended off the night by receiving a standing ovation!
Tomorrow, we will be driving 6 hours from Granada to Valencia, our second to last stop on the trip!
Please Like our Facebook page and follow us on Twitter for the most up-to-date MYO news!