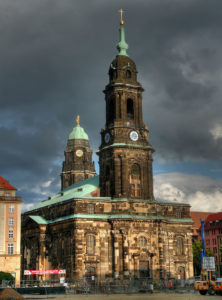 Guests from New York in the Dresden Kreuzkirche
DNN Dresden Neue Nachrichten – See the original article
Published: July 9, 2018
By: Von Wolfram Quellmalz
The Metropolitan Youth Orchestra & Chorale of New York (MYO) was founded 25 years ago to encourage talented children and young people, to give them the chance to play in an orchestra or to sing in a choir. At that time, the MYO started with 15 students, today there are alone 15 ensembles and seven choirs, in total over 1000 students. Currently, the MYO is on a European tour and performed in the Kreuzkirche on Friday evening.
The program was entitled "From classical to gospel" Sure: The music students sung and played what they like and what they come in contact with. The repertoire included American traditionals as well as Jewish songs or Gospels. The compilation was a bit more "colorful" than known by professional orchestras or choirs with sophisticated programs. Incidentally, admission was free – and Donations were in favor to the Work of the National Association for Hospice Work and Palliative Medicine Saxony e.V.. The society supports the care of seriously ill and dying people. In the end, the society got a sum of more than 2600 € plus a few US-Dollars.
Joy of music is quite essential for the work of MYO. This you could feel right away. The choir (leader: Shoshana Hershkowitz) with nearly 30 singers offered a "New York" mixture of choral music including the Hebrew Love song "Erev Shel Shoshanim" (Evening of the roses) as well as a Brazilian Psalm setting or the American Hymn "Amazing Grace." The choir impressed with dedicated singing without being pushed and with a warm, surprisingly dark sound! The singers were familiar in several native languages as well as the Ladin "Hamisha Asar" from Flory Jagoda.
The second part was reserved for the orchestra (Conductor: Scott Stickley). Playing European classics, they performed Bach's " Jesu, Joy of Man's Desiring" from the cantata "Heart and mouth and deed and life "(BWV 147) in an orchestral version, the Adagio from Wolfgang Amadéus Mozart's "Clarinet Concerto, KV 622" and the "Polowetzer Dances" from the opera "Prince Igor" by Alexander Borodin. Alan Jian as a clarinet soloist impressed with Mozart, before he switched back to the orchestra where the brasses had to deal with a lot of brass soles in Borodin's "Polowetzer Dances."
The audience's – the church was well visited – excitement was reflected by the big success of donations. Three encores were necessary, and again in a "colorful Mix ": Samuel Wards" America the Beautiful "(the unofficial anthem Subsequent to Independence Day) and – Johann Strauss! The "Radetzky March" by the father was followed by the son's waltz "Frühlingsstimmenwalzer".