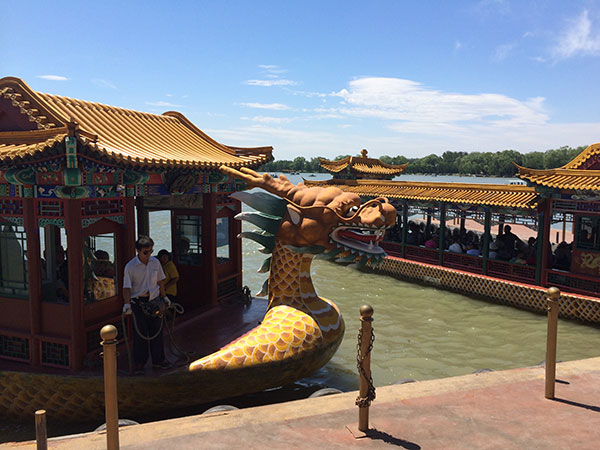 We began the day with a wonderful full buffet breakfast at the Capital Hotel. We loaded the buses with our luggage for our afternoon exchange to the airport, then to Chengdu. We rode about an hour to the Emperor's Summer Palace. There are two geographical features to the Palace grounds; the man-made lake and the hill on which the Palace sits, made from the dirt removed to make the lake. This Palace was used by the Emperor in the summer because the lake acted as a huge air conditioner and cooled the temperature by several degrees.
The summer Palace was also home to the infamous Dragon Lady who made sure she controlled her infant Emperor son from behind a curtain. When he died at an early age she adopted her nephew to make him another infant Emperor, thus controlling the throne, ergo the country for almost 50 years.
Our visit was interesting. The weather was beautiful. Another blue sky day! A bit hot and a bit muggy, but totally livable. There were thousands of Chinese families there, many with umbrellas, and all walking on the same narrow path in two directions. It would have been OK if not for a government official who decided to bring his family to the lake, forcing the police and army guard to shut down access to the single path in both directions causing a major bottleneck. At one point the army and police were yelling at each other trying to have the other yield. Eventually we were able to push through and make it to the boat dock for a scenic ride across the lake.
After a noodle lunch (and another 8 courses) we headed to the airport. The security line was a bit chaotic and some of us were pulled aside for additional baggage searches. As time was approaching for our flight we ran to the gate. In the confusion, two girls could not find their passports. They were able to get on the plane and I had thoughts of spending the next few days at the US Embasy helping them get new passports. As it turned out, the passports emerged in other MYO members' luggage and, aside from a bit of angst, everyone had their passports back.
Upon landing in Chendu we went directly to a group dinner in the old town, with some young women playing traditional instruments while we ate. After dinner we were treated to a performance of traditional Chinese face-changers. This highly secret art is amazing to watch. In full traditional dress the actors are able to pass the fan across their face and an entirely noes mask appears on their face! (Pictures are posted above).
Finally, we checked in to the Hotel Dorsett downtown. The rooms are beautifully appointed and all of the kids seemed comfortable.
Tomorrow on the the Panda Preserve!