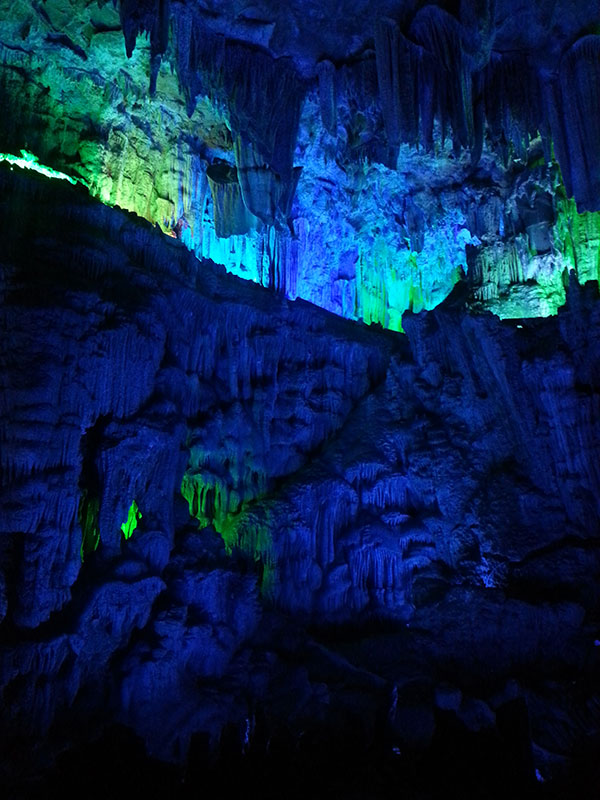 We left our Xi'An hotel early for a transfer to the airport and a two hour flight to Guilin. This time check-in and security went very smoothly. Upon arrival we were met by our city guides and given a box KFC lunch to eat on the bus. Although people were appreciative I think there was a much greater appreciation for the great Chinese food we have been eating in comparison to KFC.
After a 40-minute ride we arrived at the Reed Flute Caves, carved out of limestone over thousands of years. The government has done a significant amount of lighting to make the caves as dramatic as possible. All of the pictures in the album feature this artificial light. This time there was even a rather spectacular video, projected onto the cave ceiling depicting the development of the caves through history.
After the cave experience we continued in to Guilin and checked in to our hotel. This hotel was a little older, but still very nice. Best of all the hotel had a outdoor swimming pool, the perfect thing for such a hot and muggy day. Dinner was served to us in the hotel after which we saw a demonstration of cormorant fishing on the river. Many went to the massage center in town for a back and foot massage. Some even had their feet cleaned by little flesh eating fish!