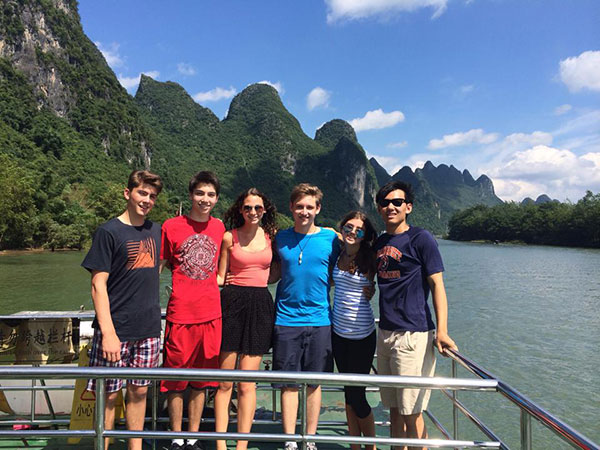 We left the hotel at 8:30am for an hour ride to board the Li River boat. The dock was fairly crowed as several boats were leaving about the same time. We had assigned seats and we began the most spectacular adventure down the Li River for the next four hours. Enormous, high limestone mountains loomed over the river in dramatic fashion all the way to Yangsho. On the banks you could see water buffalo grazing, cranes, egrets and eagles flying over, and fishermen doing their work. Every bend of the river brought another spectacular view. It was as though we were on a different planet or a part of a Chinese landscape scroll painting.
Arriving at the Yangsho dock at 1:00 PM we spent some time in the open air market before checking in to the hotel. At 4:00 PM we headed toward the park where we presented an outdoor concert under the shade of a large bamboo planting. Many people came to see what was going on and stayed for the performance. We were greeted by warm applause after each piece and all of the audience joined in singing Jasmine Flower with the choir. Despite the humidity, heat and the lack of a piano and timpani the concert was a great success!
After packing up we went to dinner at a restaurant on the river at the same location as our 2006 raft concert. Finally we returned to Yangsho for a cast of hundreds outdoor performance entitled "Impressions." Directed and produced by the same man who directed the opening ceremony for the 2008 Olympics, the lights and choreography were amazing. The hundreds of actors, all farmers, fishermen and children from the area, depicted the customs of the local minority tribes in colorful costumes, the limestone mountains lit up as a dramatic backdrop.
Before room check we had a little time to visit the outdoor night market for some shopping.
Tomorrow on to Shanghai!