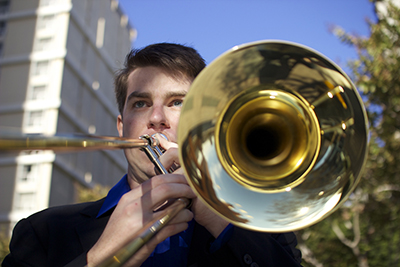 Kurt Ferguson was our guest soloist for the June 7, 2015 Alumni Concert and performed the Ferdinand David Concertino for trombone and orchestra. Kurt Ferguson was born and raised in Nassau County. His career has taken him from coast to coast, performing in venues such as Disney Hall, Houston Symphony's Jones Hall, and Lincoln Center, as well as art museums and children's hospitals. In addition to the standard orchestral repertoire, he is afforded the chance to perform some newer compositions. Most notably were performances of John Adams' opera El Nino in 2014, and the premier of a new opera Paradise Interrupted by Huang Ruo in 2015. Other performances have led Mr. Ferguson to share the stage with conductors Gustavo Dudamel, James Conlon, Giancarlo Guerrero, and actor Jack Black.
In addition to his mastery of the tenor trombone, Mr. Ferguson has always enjoyed exploring other instruments. When he joined MYO in 1999, he was playing cello in the Chamber Orchestra under Patricia Koppeis. While the cello now spends more time in the case than out, the doubler's spirit lives on. He was a finalist in the International Trombone Associations 2013 Alto Trombone competition, and holds a Performer's Certificate from the Eastman School of Music for his euphonium playing. Both the alto trombone and the euphonium make regular appearances in recitals, as does the even more obscure bass trumpet.
Mr. Ferguson is also an avid educator and maintains a studio of trombone and euphonium students. He regularly appears as guest faculty for master classes at a number of colleges around the country. He holds degrees from the Eastman School of Music, Rice University's Shepherd School of Music, and the Colburn School of Music. Some of his teachers have included John Marcellus, Mark Kellogg, Allen Barnhill, and Mark Lawrence.
Kurt Ferguson, Trombone
MYO Class of 2005