The Metropolitan Youth Orchestra of New York
13 Myrtle Street, 2nd Floor
Manhasset, NY 11030
www.myo.org
Massapequa Musicians perform with MYO at Carnegie Hall

Posted: Thursday, May 14, 2015
By Heather Doyle
Link to original article: www.patch.com
Six students from the Massapequa School District are making their mark as some of the most formidable student musicians in the region. In addition to performing in music festivals with the best musicians from the county, and in some cases, the state, east coast and nation; they also are performing as members of the selective Metropolitan Youth Orchestra of New York (MYO). In fact, all six will be on stage for an MYO concert at Carnegie Hall, May 31.
Massapequa High School senior Angelica Ansbacher, a clarinetist who performs with MYO's Nassau Principal Orchestra, is an NYSSMA All-State and All-Eastern musician and was selected for All-County ensembles since fifth grade. She is also president of the Massapequa High School chapter of Tri-M Music Honor Society and has honed her musical talent at the New York State Summer School of the Arts School of Orchestral Studies.
Bass player Robert Catinella, also a senior, performs with MYO's Suffolk Principal Orchestra and was also a finalist in the MYO 2014-2015 Concerto and Vocal Competition this winter. His recording of Bottesini's "Concerto No. 2 in B minor, mvt. 1" was chosen out of more than 30 submissions, which he then played in the competition against four other instrumentalists. He is the second Massapequa High School student to be named an All-National musician by the National Association for Music Education (NAfME). He is also an All-Eastern and an All-State musician, and has been selected for All-County ensembles since fifth grade. A Tri-M Music Honor Society member, Robert has also played with the Long Island String Festival throughout high school.
Massapequa High School junior Alexia C. and Berner Middle School eighth-grader Alayna C., both altos, perform with MYO's Nassau Chamber Chorale, the most selective choral ensemble, and eighth-grader Maria L., a soprano, performs with the Nassau Concert Choir.
Alexia is an All-Eastern and All-State musician and has been named All-County since fifth grade. She is a member of the high school A Capella Choir and the Chordette Choir and has played supporting roles in the high school musicals.
 Both Alayna and Maria are All-County musicians who have taken advantage of the musical opportunities at Berner Middle School, including roles in school musicals and solos in concerts. Alayna is a member of the choral club, Vocal Points, and takes private voice lessons. Maria played the lead in the musical "All Shook Up" won first place among the eighth-grade class in the Berner Idol singing contest.
Unqua Elementary School sixth-grader Adriana K., the youngest member from the district, plays the cello in the Nassau String Orchestra. The two-time All-County musician has also played with the Gemini Youth Orchestra, and this year, performed a level 5 NYSSMA solo.
"These students are not only talented, they work extremely hard, and we're proud of everything they've accomplished with MYO this season," said Nicole Fox, personnel and membership manager of MYO.
Students are accepted into MYO based on their execution of a solo piece and a sight-reading excerpt, and rehearse weekly for up to two and a half hours. This season, each student had an average of four performances: three formal concerts and one community performance. The formal concerts were held at Adelphi University Performing Arts Center, Tilles Center for the Performing Arts, Staller Center for the Arts and LeFrak Concert Hall. The community performances included venues such as Parker Jewish Institute, Hempstead House at the Sands Point Preserve and The Feinstein Institute for Medical Research.

 "We are certainly proud that the quality of our music program and our educators has prepared these students to expand their repertoire of musical opportunities by performing with the Metropolitan Youth Orchestra," said Dr. David Gaines, the district's curriculum associate for music, K-12. "Their determination, dedication and commitment are qualities that will propel them to the next level of musical achievement."
Massapequa School District has consistently been recognized for music education excellence and has recently received its sixth consecutive distinction as a "Best Communities for Music Education" by the National Association for Music Merchants (NAMM) Foundation. The district is also one of only three in Nassau County that produced 10 or more All-State musicians.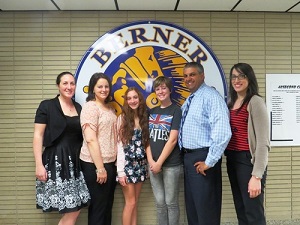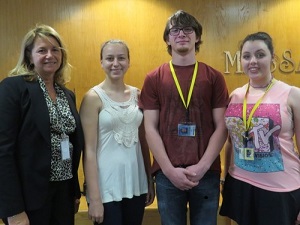 Courtesy of Massapequa Schools
The Metropolitan Youth Orchestra of New York is committed to fostering a community of talented young musicians from the greater Long Island area, providing them with an opportunity to rehearse and perform orchestral and choral masterworks at the highest possible level with recognized leaders in music education and performance. Founded in the fall of 1993 by John C. McNeur, MYO has grown from one orchestra of fifteen members to seven orchestras, a flute choir, and seven choral ensembles, serving over 950 young musicians between the ages of 8 and 18 throughout the Nassau and Suffolk counties of Long Island.
For more information, please visit www.myo.org or call (516) 365-6961.