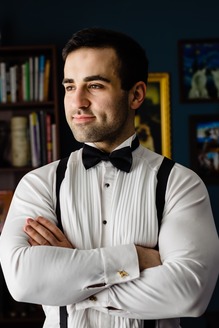 Adam Birke | MYO Coach
Adam Birke is a violinist and private music instructor from Baldwin, NY. He holds a B.M. in Violin Performance and an M.A. in Musicology from the Aaron Copland School of Music at CUNY Queens College, where he studied violin with Dr. Anne Yarrow.
He has had extensive experience teaching violin, viola, and piano, as well as tutoring music theory, analysis, ear training, and history for people from ages 3-65 in individual and group settings. In the wake of the pandemic, his violin studio evolved into a completely virtual format. His thriving virtual studio is now composed of over 20 students and includes not only private lessons, but also a weekly group class, and two annual virtual performances.
Mr. Birke's combination of musical knowledge and technology skills led him to further recent collaborations with such artists as Richard Amoroso of the Philadelphia Orchestra and Dovid Friedlander of the North Carolina Symphony. As the technology consultant for their Violin Virtuoso Summer Intensive programs, he had the opportunity to work directly with world famous violinists Augustin Hadelich and James Ehnes.
As a staff member for MYO, he served as a rehearsal manager for the Nassau Symphony and Principal Orchestras for 3 years. Since then, he has taken on the role of virtual chamber music coach and has run numerous virtual sessions on topics such as video game music and Disney movie music. In 2021, Mr. Birke facilitated virtual rehearsals and special programming for the Nassau Principal Orchestra, most notably managing the ensemble's two collaborations with renowned violinist, Midori.
Mr. Birke is the Associate Concertmaster of the South Shore Symphony and serves as Concertmaster for the orchestra's annual production of The Nutcracker. In March of 2019, he was featured as a guest soloist alongside his wife, Catherine Birke, in a performance of Bach's Concerto for Two Violins. Mr. and Mrs. Birke also serve as Audience Avatars for the Park Avenue Chamber Symphony's InsideOut concerts. In these innovative performances, Birke functions as a liaison between audience members at home, the conductor, and orchestra members, relaying feedback and questions while also sharing his own musical knowledge and opinions.
He is proud to be an alumnus of the Metropolitan Youth Orchestra of New York and looks forward to working with the next generation of MYO students.