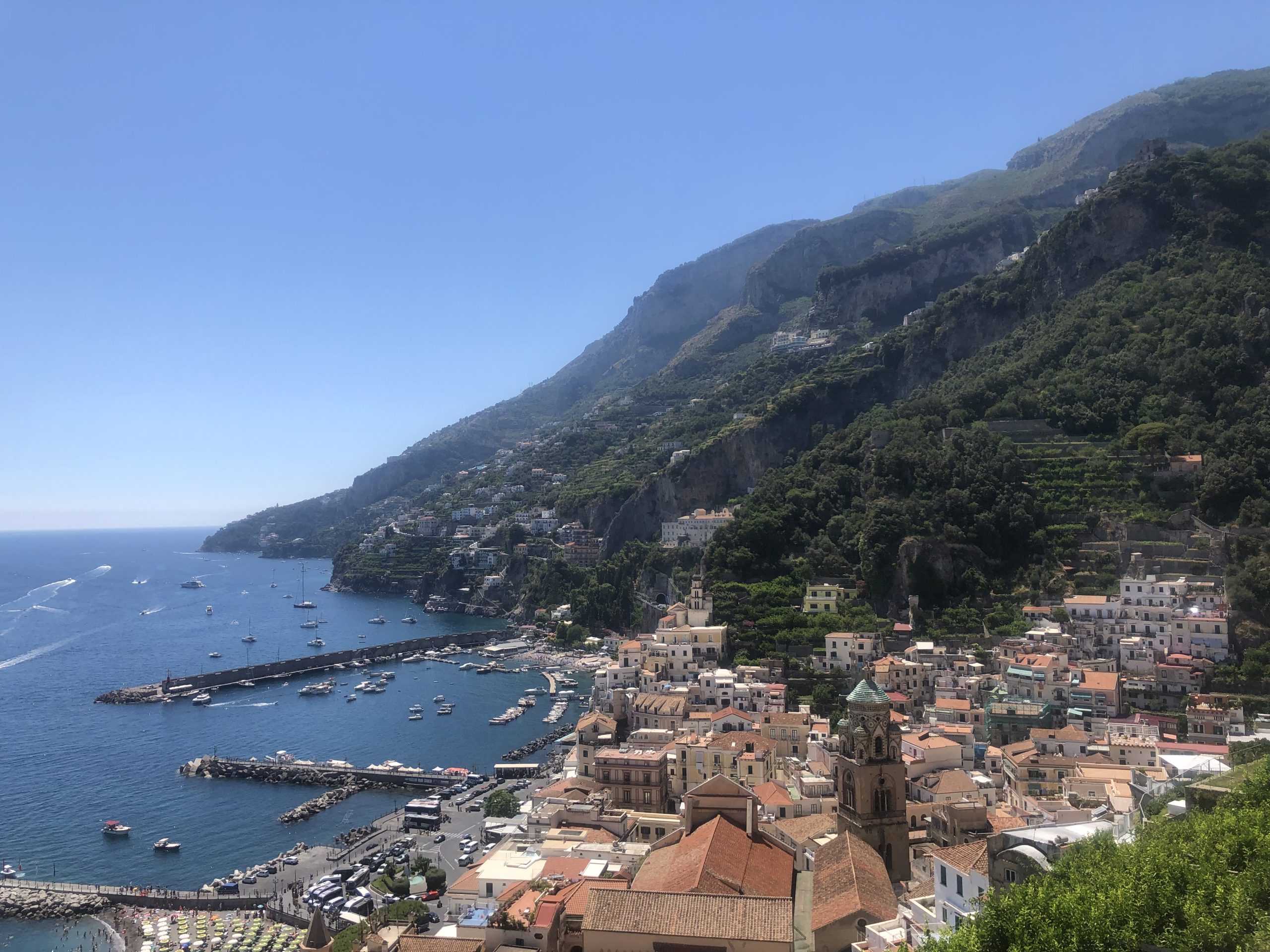 Ciao again! I hope you're ready for another day of cruising the sea, admiring stunning views, and eating lots of food. Actually, you're just going to read about it; unfortunately we already did all that today. But hopefully you'll feel like you were there with us as you do!The morning started out quite similar to that of yesterday, although we did have a little more time to eat breakfast. Our mini-buses were waiting for us once again outside the hotel to bring us down to the port once again, only this time we would be boarding a much smaller boat, and it wouldn't be bound for Capri. Once we gathered in the lobby, we hopped on the buses and embarked on the now all-too-familiar windy ride down the cliff. Arriving at the port, we made sure to apply plenty of sunscreen before boarding our cruise boat which would be taking us along a scenic ride down Italy's famed Amalfi Coast.
Celebrated worldwide for its Mediterranean landscape and natural diversity, the Coast is named after the town of Amalfi, which makes up its main historical and political center. It is a very popular jet set destination, and an equally popular attraction to thousands of international tourists every year. It is located on the relatively steep southern shore of the Sorrentine Peninsula, leaving little room for rural and agricultural development, although the area is widely known for its lemons grown in terraced gardens along the entire coastline. The natural beauty, sprawling landscapes, and elegant architecture of the Amalfi Coast make it one of the most picturesque locales in the world, and also earned it a spot on Italy's long list of UNESCO World Heritage Sites.
We made our first stop in the breathtaking resort town of Positano. Surrounded by orange and lemon groves, this small but vibrant town is nestled on the craggy mountainside adjacent to the sea, with houses and storefronts colored in a wash of pink, yellow, and cream. As we pulled into the pier, we were greeted by the lovely beaches along the shore and a light breeze coming off of the ever-blue water. With one hour and fifteen minutes to walk around and do our souvenir shopping, we had plenty of time to explore. Most of us used this time to triage the many different clothing shops dotted around the inner part of town, but I chose to change things up a bit, electing instead to take a seat on the beachfront to rest, recline, and enjoy the fresh air. I had never experienced a bliss like the one I felt at that moment in my life.
But alas, the time began to wear thin, and eventually we all reconvened at the port to make our way to our second stop: the town of Amalfi. This seaside getaway lies at the mouth of a deep ravine at the foot of Monte Cerreto, surrounded by dramatic cliffs and coastal scenery. It was the capital of the maritime republic known as the Duchy of Amalfi, an important trading power in the Mediterranean from the ninth century to the thirteenth. Like Positano, Amalfi is another known cultivator of lemons, but it is arguably even more famed for its production of Limoncello liqueur. Unfortunately for the Performance Tour, we wouldn't get to try it, but it does sound good! Amalfi is also known for its massive cathedral, known as the Cattedrale di Sant'Andrea, which has an incredible sixty-two steps leading up to its entrance. Believe me, I counted.
Once we had landed in the port of Amalfi, we proceeded as a group down into the city center toward the Piazza del Duomo, where the cathedral was located. Immediately, we all knew exactly what was about to happen. The choir arranged itself on the few steps closest to the street, and began to sing. We performed some of our favorite tunes, including "Bonse Aba," "Siyahamba," and "Hark, I Hear the Harps Eternal," and even started to build a little bit of a crowd. However, we did want to leave ourselves enough time to explore the town, get some lunch, do some more shopping, and of course taste some more of that sweet, sweet gelato, so we ended up cutting our impromptu concert a bit short. And so, we all dispersed into the town with about two hours and fifteen minutes to frolic and gallivant about. A few of us, including myself, even got to meet up with their families here!
My first stop was a local seafood restaurant where I ate lunch with my family. I enjoyed a hearty lasagna, but I must say that my father's fresh tuna salad looked quite appetizing. After eating, we ended up asking a local for gelato recommendations, and he gave us the name of what he claimed was the best gelateria in town. It only took me one bite out of my caramel-hazelnut combination to know that he was right. This was easily the best-tasting gelato I have had on tour so far, and it wasn't even close! Before we had to leave, my family and I rode an elevator up to an observation point on the cliffside. The vistas from up there were like no other. Before us was the most perfect snapshot of the town, the shore, the surrounding coastline, the glimmering houses, the greenery, and the deep blue sea. What a view!
Soon, it came time once again to reboard our cruise boat and head back to the port of Sorrento. After landing in the harbor on the other side, we took a large group photo on the steps just before hopping back on the mini-buses for a quick lift back up to our hotel. Like yesterday, we had about forty-five minutes or so to get changed for the rest of the day, take showers, and have a bit of downtime. This evening, we would be returning to Corso Italia in the heart of Sorrento, only this time not to perform a concert, but rather to get dinner on our own, to explore the city in greater depth, and to have fun with our friends.
And that we did. I ended up eating dinner with a handful of my friends and some of their families, and enjoyed a plate full of beef chunks served over trenette pasta. Then, per the recommendation of our wonderful tour choir pianist Mrs. Melker, many of us went to a gelateria called Raki to try out some of their flavors. I saw some interesting and enticing options, such as vanilla ginger, pineapple with basil, and cinnamon. I wanted to try them all! Anyway, we spent the remainder of the night window shopping at some of the small clothing stores, dancing to the music of street performers, and just generally enjoying a pleasant time with our friends.
How about that? Once again, I'm so sorry you couldn't be here to experience all of this, but I really do hope I did a good job capturing all of the most important moments for you, and I hope that you had the chance to learn something new about these locales as well. That said, tomorrow we set off on our last long travel day by coach, as we head out of Campania back north toward the region of Lazio and Italy's capital city of Rome. As always, thank you so much for continuing to read, and I will be back once again tomorrow with all of the highlights, stories, and antics from our interregional travels!