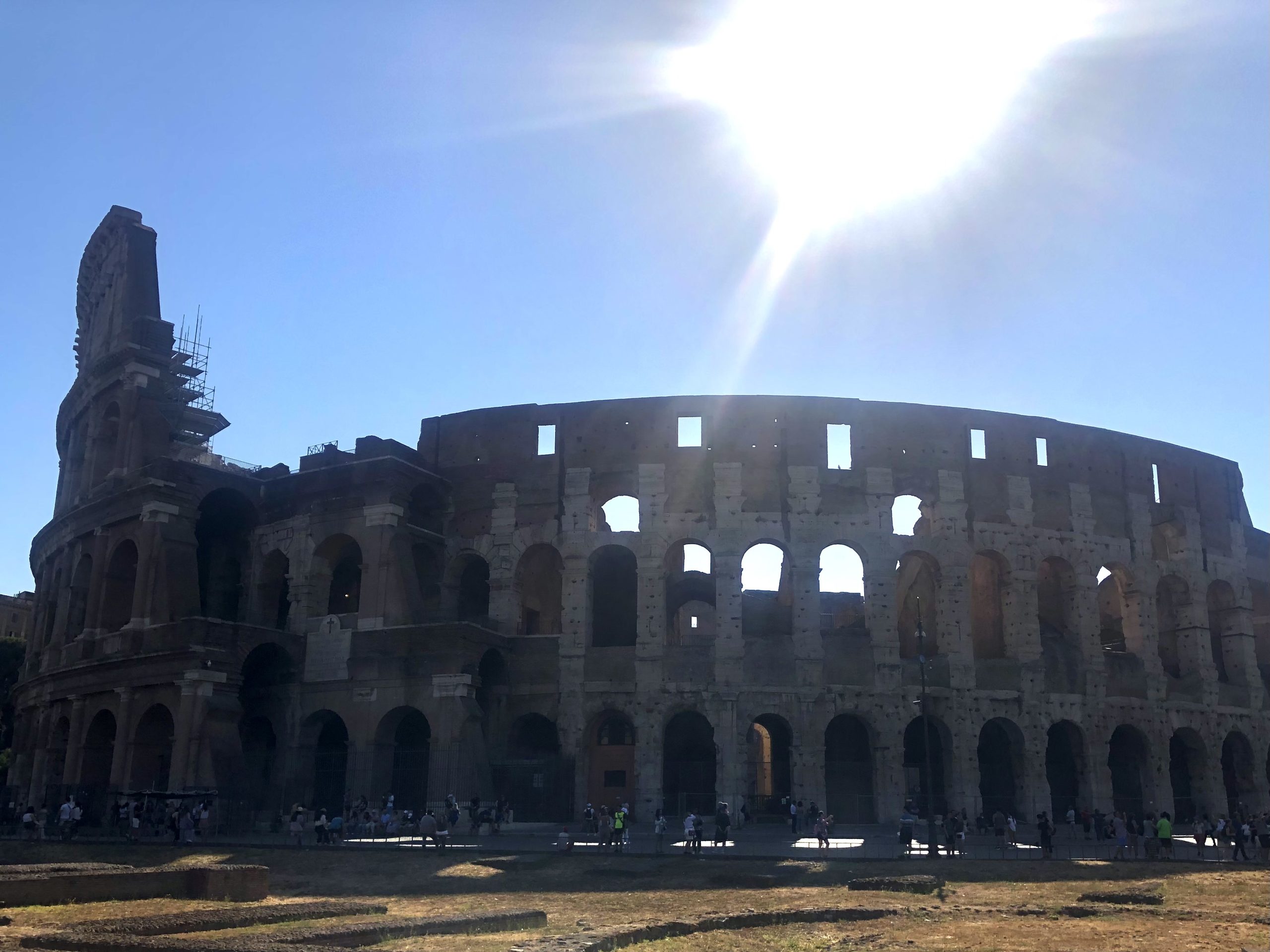 Welcome back! Today had to be one of the greatest days we've had on tour. Between the sightseeing we did this morning, the amazing food, and our concert tonight, there was absolutely nothing that could make this day any better. So sit back, relax, and please enjoy the story I'm about to tell you.
I woke up nice and early this morning, as I have made a habit of doing, which gave me plenty of time to freshen up for the day as well as to eat breakfast. The spread wasn't as big as it was at the other hotels, but there were still enough fruit tarts, cheese slices, bread rolls, and scrambled eggs to tide us over until lunchtime. At around 8:30, we all gathered in the hotel lobby and awaited the arrival of our tour buses, which would drive us over to today's destination: the Parco Archeologico del Colosseo, where we would be guided through tours of the ancient Roman Forum, the Triumphal Arch of Constantine, the Vittorio Emmanuel Monument, and the Colosseum.
For centuries, the Forum was the focal point of everyday life in Rome. Many triumphal processions and elections, public speeches, criminal trials, and gladiatorial matches took place in different parts of the plaza, but it also generally served as the nucleus of Rome's commercial affairs. For this reason, it has been called the most celebrated meeting place in the world, and even in all of history. Located in a small valley between the Palatine and Capitoline Hills, all that remains of the Forum today is a sprawling ruin of architectural fragments and intermittent archaeological excavations attracting over four million tourists and sightseers annually. Just east of the Forum stands the Colosseum, the largest ancient amphitheater ever built and still the largest standing amphitheater in the world to this day, despite its age. Its construction began under the emperor Vespasian in the year 72 and was completed eight years later under his successor and heir, Titus. The Colosseum was built of travertine limestone, tuff, and brick-faced concrete, and at various points in its history could hold an estimated 50,000 to 80,000 spectators.
Our tour began at the base of the Forum where, after clearing a brief security checkpoint, we were greeted by our guides. Once we applied plenty of sunscreen and drank some water (as the sun decided that we should suffer in its scorching heat today) we began our stroll down the Via Sacra toward the Arch of Titus. The arch was constructed in 81 AD by the Emperor Domitian shortly after the death of his older brother, for whom he named it, after he led the Romans to victory over the Jewish rebellion in Judea. Panels portraying the triumphal procession celebrated in 71 AD after the fall of Jerusalem line the arch's piers, including a depiction of the menorah, which would later become a symbol of the Jewish diaspora and find its way onto the emblem of the state of Israel. This arch was probably one of my favorite sights on the entire Forum; there was something so grand about it that made it stand out from everything else!
We continued walking, first passing through the arch and then proceeding down the maze of roads which connects all the other points of interest in the Forum. Honestly, I don't remember much from this part of the tour, as I was starting to feel a little heat exhaustion at this point, but some of the highlights were the temples of Venus, Saturn, and Apollo, each dedicated to the Roman deity for whom they are named; the ruins of the Basilica Emilia, a former Roman public and civic hall built in the second century BC; and a number of churches and cathedrals which lined the northern end of the Forum. Once we had swept the main grounds, our tour guides led us down the length of the Palatine Hill to see the remains of the Circus Maximus, an ancient Roman chariot-racing stadium and mass entertainment venue which was the first and largest stadium in ancient Rome. Unfortunately we only got to see it from the outside, but the site has since been converted to a public park, so it is actually possible to stand on the same ground where over 150,000 spectators would have been watching the Roman public games two millennia ago.
Then, it was finally time to enter the Colosseum. More accurately, it was time to wait in the long line to get into the Colosseum. I don't remember the wait feeling too long actually, but I do remember there being lots of people, as expected. But I have to tell you, I experienced a moment of true awe when I stepped out into the main amphitheater for the first time. Once again, it was the images I had been shown online for years finally coming to life before my eyes. The structure's intricacy and magnanimity were what made it so breathtaking, and it becomes even more impressive considering the conditions and time of its construction. What a sight this was! But as it began to get even hotter and our time began to wear thin, we had to say goodbye to our guides and head back to our hotel for a long, restful afternoon before our final concert this evening.
Before going back up to my room, I joined a group of friends for lunch at a local restaurant, where I enjoyed a burger topped with lettuce, onions, and a delicious house-made tomato ketchup (and I don't normally like ketchup!). We went out for gelato afterward, and I may have gotten a bit ahead of myself and ordered a three-scoop cone of hazelnut, pistachio, and coconut. Although my stomach may have regretted that decision for the two hours that followed, I certainly did not and still don't. With only one full day left in Italy, I just had to make my final moments count! Arriving back at the hotel, we all dispersed back into our rooms for some much-needed downtime, showers, or even naps. I personally did all three, and I also prepared my concert dress in a bag so that I could change into it before the concert, because I was not about to walk out into the inferno that was outside wearing a long-sleeve back shirt!
So, we assembled as always in the lobby to meet our buses yet again, which would drop us off not too far from our concert venue, from where we would have to walk the rest of the way down a pedestrian road. Speaking of which, tonight we would be performing in the magnificent Chiesa di Sant'Ignazio di Loyola, or the Church of St. Ignatius of Loyola. Actually, magnificent is quite the understatement. With imposing high ceilings, colored marbles, richly ornamented altars, extensive gilding, and a massive trompe-l'oeil fresco where the church's dome should be, this was probably one of the grandest churches I, and probably many of the others on tour, had ever seen. But its most amazing qualities by far were its acoustics. One note and this place was rumbling! The final rehearsals and sound checks went very well, even through all of us being completely mesmerized by the ethereal ringing of our sound off of every wall.
Then, it was time to break for dinner, so our tour managers led us to another local restaurant, which happened to be directly across from the one at which we had eaten last night. I actually enjoyed the food very much, even if it was the same old pasta-followed-by-meat-with-vegetables three-course dinner with which we are all too familiar. Most people seemed to agree with me too, which proved to me that it wasn't just because I was absolutely famished before this meal that I thought it was so good! Anyway, once we finished eating, we returned to the church and made our way to a set of rooms behind the apse to set our belongings down and dress for the concert. It was here that the choir got a chance to run through the program one last time, at which point many of us were already starting to get emotional, knowing that this was our final proper concert on the tour. And after one last pep talk and several good-luck hugs, the time had come to begin the concert.
The house was quite full tonight! Every space on every pew was occupied, and those standing also occupied most of either side aisle and most of the rear of the nave. What an audience! The orchestra's brass players reassembled once again to begin the concert with the same two fanfares which opened our concert in Montecatini-Terme, a beautiful introduction to our program. The choir stepped out next to perform their set and, might I just say, we sounded our best tonight than ever before on tour. Additionally, I had the privilege of performing a solo feature on a piece near and dear to my heart, "Fog Elna Khel," a gorgeous arrangement of an Arabic poem from Iraqi folklore. After our week of rehearsals, I learned that the song is actually quite well-known among members of my family, most of whom were either born in Iraq or are of Iraqi descent. This made our performance tonight that much more special for me, and I really hope everyone enjoyed my setting of it!
By the time we had finished singing "Hallelujah," many of us were already in tears. We joined hands for our performance of the Irish Blessing, "May the Road Rise Up to Meet You," which has closed every one of our programs on tour. After a standing ovation and one last bow, we made our way to the back area once again to exchange more hugs and cry more tears of joy. The orchestra began their set after a brief intermission. I also felt that their performance tonight was the best it has been on tour, and the amazing acoustics really lent to their absolutely heavenly sound. The Elgar Cello Concerto was particularly spectacular; it left even more tears in the eyes of the choir members, as if we hadn't already cried enough. Equally spectacular was the orchestra's performance of Rimsky-Korsakov's Capriccio Espagnol, which was truly given new life by the reverberation of the space. They also received a standing ovation at the end of their performance, and of course, one more after our final combined performance of "Va, pensiero." What a truly unforgettable night.
One more incredible day in Italy is now in the books. It's been a long one for sure, but after that concert I can confidently say that it was more than well worth it! This is one of those days that will come to mind first when remembering this tour months, or even years, down the line, with so many historically and architecturally breathtaking sights, amazing music, and lots of emotions! But, there is still one final day left to spend here in Rome tomorrow before our return flight the day after, and something tells me it will also be a day to remember. So, since it's almost midnight and I can barely keep my eyes open, I am going to cap this one off for now and reconnect with you all tomorrow, as always. Let's make our last day in Italy count!