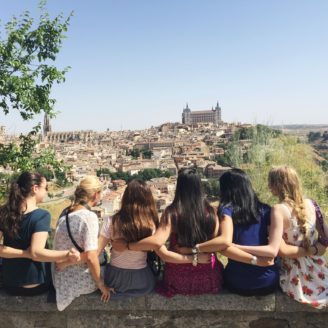 Today was our final day in Spain! It was so hard to believe that our two week tour had come to an end, but we all had a phenomenal last day! It was a free-structured day meaning all tour participants had the option to spend the day at Mar Bella Beach, which was only a short distance from our hotel, tour the inside and towers of La Sagrada Familia, or explore Barcelona's Gothic Quarter.
It was a beautiful day to spend at the beach, and many of us enjoyed swimming in the Mediterranean Sea! The water was so clear that some were able to see fish swimming alongside them. Fortunately, a majority of the group was able to escape the beach with tanned, rather than burned, skin.
Another group of tour participants decided to spend the day touring the Sagrada Familia, and it was even more stunning on the inside! Walking up some of the towers was one of our favorite parts because we were able to see the designs and structures of the church that cannot be seen from ground level, as well as a wonderful panoramic view of Barcelona.
After a long day of enjoying various activities, the group reunited one last time for a group dinner at a restaurant overlooking the Mediterranean. Besides taking group pictures by the ocean, we all enjoyed musical compositions by our choir conductor, Mrs. Baskin, Mrs. Murphy, and orchestra conductor, Mr. Stickley! The songs they wrote about our time in Spain were quite comical and we were all highly entertained.
Then, each orchestra and choir participant was given a superlative that demonstrated who they were as a person, or something we learned about them on the trip! Some superlatives included "best listener" to an orchestra member, "fastest fingers" to the orchestra's principal clarinetist, and "happiest singer" to one of our choir members.
The night was filled with laughs and sharing special memories from our tour of Spain. Special thanks to everyone who was a part of our journey, whether they were with us in Spain or cheering for us back at home!
Thank you to Dr. Jackson, Mr. Stickley, Mrs. Baskin, Mr. Baskin, Mrs. Murphy, Emily Fischer for being the best conductors and chaperones! Thanks to all shadow tour participants for attending all of our performances and experiencing Spain with us, and muchisimas gracias to our tour guides Rocío, Nacho and Cristina for taking us to all the magnificent sites and attractions Spain has to offer, translating for those of us who don't know Spanish, and in general for being great friends to all tour participants!
Lastly, thank you so much to all of our parents for making this trip possible! Your endless support of our musical endeavors means the world to us, and we would not have been able to have this incredible experience without all your love and support!
We hope you enjoyed reading about our adventures in Spain! Stay connected with MYO and view more pictures of our trip on MYO's Facebook, Twitter and website!
¡Hasta luego!
Please Like our Facebook page and follow us on Twitter for the most up-to-date MYO news!