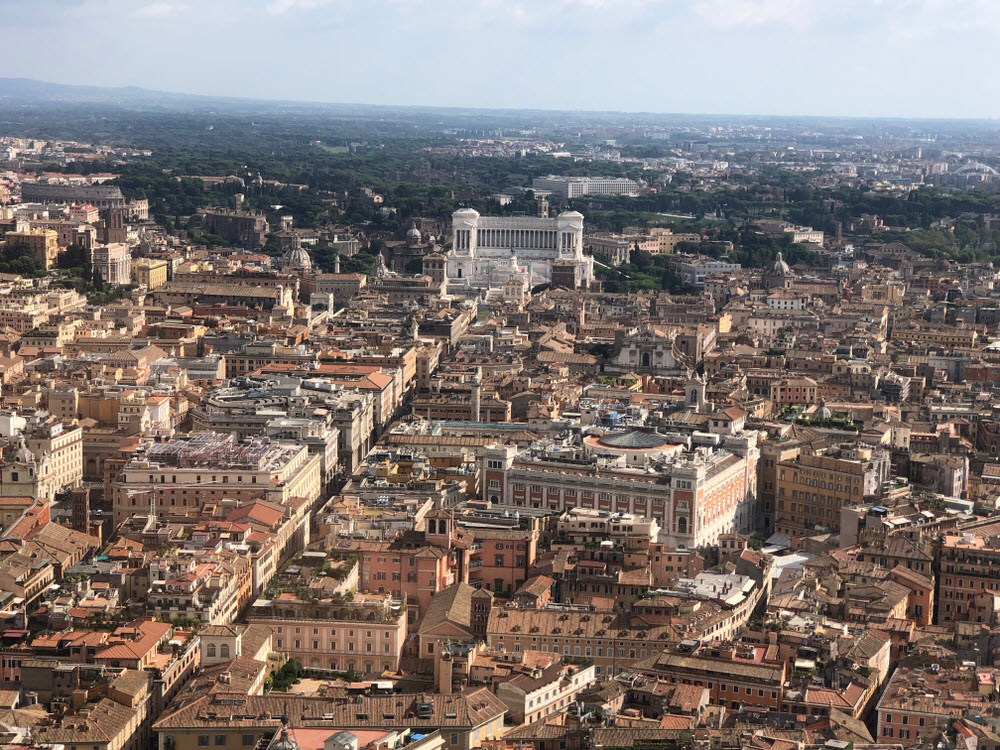 We've arrived, ladies and gentlemen. Today marks the end of MYO's 2022 tour to Italy, and these will be my final words on the subject. I still have not come to terms with either of those facts. Time has flown far too quickly, and it's incredibly unfortunate that we must leave Italy behind today. Though it is nice to be returning home after a long trip, I can confidently say that, for most of us, this was one of the most formative and most influential experiences many of us have undergone in our lives, and we are all so lucky to have been able to do so in the company of our wonderful new friends.
Now, there's not too much to talk about today, unless you want to hear about how much I did not sleep on the plane for ten whole paragraphs, and I will take a wild guess in saying that you probably don't. I already teased the infernal 4:00 wake-up call that we all faced this morning but, at least for me, it didn't turn out all that bad thanks to all of my training in not sleeping through my alarms! Plus, I had packed everything the night before as we had been instructed to do during last night's good-night check-in, so all I had to do was roll out of bed and grab my belongings, and I was immediately out the door. There was a small crowd of us already beginning to assemble in the lobby of the hotel, with more and more trickling in by the minute. Boxed breakfast was available, but I simply could not stomach food at such an early hour, so I passed on that offer. By around 4:45, it seemed that all were present and accounted for, and our buses had just arrived, and so it was time to head for the airport!
You could hear a pin drop in that bus. Dead silence was all there was to hear on the forty-five minute drive to Rome's Leonardo da Vinci International airport in nearby Fiumicino, as everyone was either asleep or too deprived of energy to be speaking. I gave a quick nap my best shot, but to the surprise of no one, I did not catch even a single wink. Zombie mode, activate. And activate it did once we arrived at the airport. Waiting in that queue for the check-in booth felt like an eternity. But we implemented a similar scheme as in JFK when we first left, where each chaperone group that finishes checking in moves together to security, which expedited the whole procedure of getting everyone through as quickly as possible. A few hours later, we boarded our first flight bound for Frankfurt, where we would be connecting to our long-haul flight back to New York. That flight lasted about two hours and was generally quite mellow; to be fair, I was probably one of the only people awake on that plane!
Upon landing, we had to brave the maze of hallways and staircases that was Frankfurt Airport, just as on the first day, until we arrived at the gate from which our flight was set to depart. And this is where things turned sour. Not only was our flight delayed, but every half-hour we continued to receive updates that our flight was being delayed further and further! So naturally, what did we do? We started singing. The choir members gathered in a circle to deliver an extra-emotional Irish Blessing for the last time. But the warm hugs and tears of joy only lasted a short while, as the choir-kid in all of us broke out in full force as we began singing more of our repertoire, right there in the middle of the airport. It only took a few of the orchestra members some minutes to bust out their own instruments and begin performing. But it was when "Va, pensiero" broke out that we really got the whole airport bumping! That song has some magical properties, I swear. Anyway, our flight ended up leaving three hours after its scheduled departure time, which now didn't seem so bad after our little concert. We even got a shout-out from the captain of the plane before taking off!
Nine hours and one shaky landing later, we hit the ground in Queens and made our way through immigration and baggage claim. And it was here that it was time for me to bid everyone in our MYO tribe farewell which, as much as I would love to dramatize it, wasn't all that difficult, as I knew for a fact that not only would we all be keeping in touch, but also that there would be plenty of tour reunions to come in the near future!
And now, at last, we take a breath. I arrived home about three hours ago, set my luggage down, marched up to my bedroom, and just belly-flopped onto my bed. The two weeks of nonstop action that preceded that moment raced through my mind like a fever dream, and I probably sat there for a while just contemplating, reminiscing, attempting to organize all of my thoughts sequentially. It's good to be home!
Well, I am now thirty-four pages deep in my writing at this point, and if somehow you made it all the way through, I want to say thank you from the bottom of my heart and that I hope you've enjoyed it! It has been an absolute honor and pleasure putting this project together for all of you. This has truly been an unforgettable experience in every way, and I think I speak for all of the performers, families, and friends on tour when I say that we are indebted to the people at MYO and GrandTours for giving each and every one of us the opportunity to experience so much of what Italy has to offer, to perform in some spectacular spaces, and to have a blast with our friends. What a fantastic way to kick off the summer of 2022. Anyway, my sleep schedule is now in shambles, and I may or may not be up at midnight writing this final paragraph, so I think it's time to sign this thing off once and for all. Arrivederci a tutti, alla prossima!