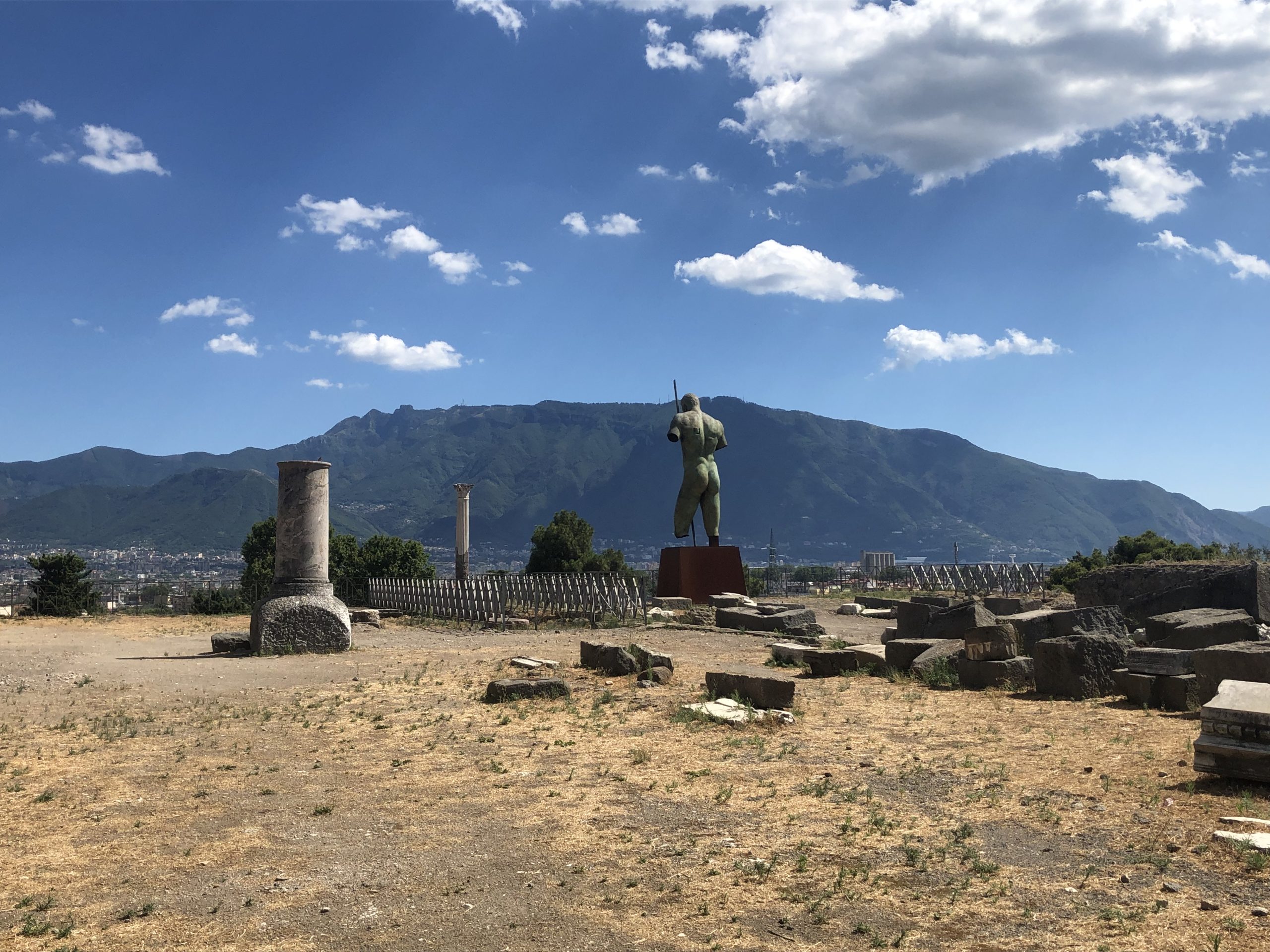 It's hard to believe that we're already over halfway through the tour. Seriously, it feels like just yesterday that we first landed in Italy. Anyway, I had one of the best sleeps of my entire life last night. The mattresses in that hotel were so comfortable! Even the breakfast spread was nice, although we didn't have much time to eat it because of our early 8:30 call time. Nevertheless, I still managed to enjoy some scrambled eggs and a slice of apricot pie before we had to go.
Both hotel groups reunited once again at the top of the staircase we used to enter into Orvieto yesterday to begin our descent back down to the parking lot where our buses were waiting. Today was going to be another one of those long travel days, with about four hours of bus ride until we would reach our next stop. So, with not a moment to waste, we rushed down the several flights of stairs and escalators to our buses and hopped aboard. All of our luggage was moved from our hotels straight onto the coaches, similarly to yesterday, so that we didn't have to carry anything too heavy as we made our way down from the city center, and as a result our departure from Orvieto was swift and effortless.
What I love most about these travel days is how much time we get to spend all together, and it really does build a sense of family among us, both as musicians and as friends. I remember how much fun the times spent travelling were on the last tour, because it was much the same way, and this time around it has been no different. I feel like I've known these people for my entire life! Anyway, our road trip was broken up by two rest stops. The first was quite short, allowing us just enough time to grab a quick snack, use the bathroom, and stretch our legs after sitting for so long. The second was a bit longer, as we had stopped in a larger rest area known as the Autostrada, so that we could get lunch and restock on snacks for the day, as we did when we first arrived in Italy a week ago. Most of us found something to eat, ranging from salad bowls and chicken platters to the classic pasta and pizza. I wasn't really that hungry myself, so I instead bought myself a can of paprika-flavored Pringles, which I don't think are actually sold in the states, but I can assure you that they were amazing!
At this point we were in the city of Caserta, just north of Naples in the region of Campania, and we even got an excellent view off of the highway of the Royal Palace of Caserta, another UNESCO World Heritage Site. Did I mention that Italy has a whopping fifty eight such sights? That's the most of any country in the world! What's more, our first of two destinations for today is another one: the ancient city of Pompeii (or at least what's left of it). Largely preserved under the ash, this excavated city offers a unique snapshot of Roman life, frozen at the moment it was buried under volcanic ash and pumice following the eruption of Mount Vesuvius in the year 79. Although much of the detailed evidence of the everyday life of its inhabitants was lost in the excavations, organic remains, including wooden objects and human bodies, were entombed in the ash and are thus preserved for visitors like us to see. Besides also bearing the UNESCO World Heritage Site designation as I previously mentioned, Pompeii is one of the most popular tourist attractions in Italy outright, with approximately 2.5 million visitors annually. 
Upon our arrival, we each went through a brief security check before meeting up with our local tour guides who would take us through the ancient ruins and tell us about the history, layout, and culture of Pompeii as we stepped back two-thousand years into the past. In truth, I didn't retain as much information as I would have liked, since all I could think about most of the time was getting out of the blazing-hot sun, but I can still provide you with some highlights. The main street running through the city was known as the Via Stabiana, and it connected the Porta Vesuvio (Vesuvius Gate) in the highest part of the city with the Porta di Stabia (Stabiae Gate) in the lowest part. Along this road and others were houses and small stores built from limestone, volcanic tuff or concrete, and many were decorated with elaborate floor mosaics, though most of these have been lost in excavation. 
At the end of this road stood the Forum, the center of Pompeii's religious, economic, and municipal life. Dominating its northern end was a temple dedicated to the Roman deities Jupiter, Juno, and Minerva, and on its southern end stood a large basilica, which was not used as a church but rather as a meeting place of the city council and the offices of the magistrates of the city. Other notable sights in Pompeii included the amphitheater, a large palaestra, and many baths around the city. And not only were the ruins so fascinating, but the views off of the hillside were also just spectacular.
Once we had arrived back at the entrance to the ruins, we said goodbye to our local guides and headed back to our buses. And oh, was it ever nice to finally get out of the heat! We still had at least another half an hour until we would reach the second of our destinations for today and our home base for the next three days, the city of Sorrento. It is a resort and port town overlooking the Bay of Naples in Southern Italy. Its close proximity to the isle of Capri, the Amalfi Coast, and stunning Mediterranean beaches make it a very popular tourist destination; you can imagine all of these facts made us quite excited about the next three days! After not too long, we had arrived at our hotel, the Grand Hotel Vesuvio, and we unloaded our luggage from our coaches, collected our room keys, and went upstairs to check it out. Let me tell you, I was absolutely blown away by the sprawling view of the Neapolitan coastline that I could admire right from my room's balcony. It felt like a dream!
The rest of the day today was entirely spent settling into our rooms, spending some downtime with friends, and eating good food! A few of us, including myself, took advantage of the hotel's pool for about an hour, which was a nice way to cool off after spending so long in the heat earlier today. Others decided to relax, either in their rooms or in one of the lounge areas on the hotel's first floor. Dinner was served a bit earlier today, but I didn't mind at all as I was famished! Almost all reviews on the food were overwhelmingly positive; most people especially enjoyed the gnocchi which was served as our first course. Either way, it was a nice change from just plain old pasta with red sauce!
Well, that's a wrap for today. Like I said, the time is going by much too fast. I am sure I speak for most of my friends when I say that this is shaping up to be one of the most impactful and most memorable experiences of our lives. And what better way is there to spend it than with each other? I must thank you all again for continuing to read and enjoy this archive of our experiences; it has been nothing but a pleasure writing it. It's not over yet, though, so join me once again tomorrow as I take you through the next of our grand adventures in Italy!