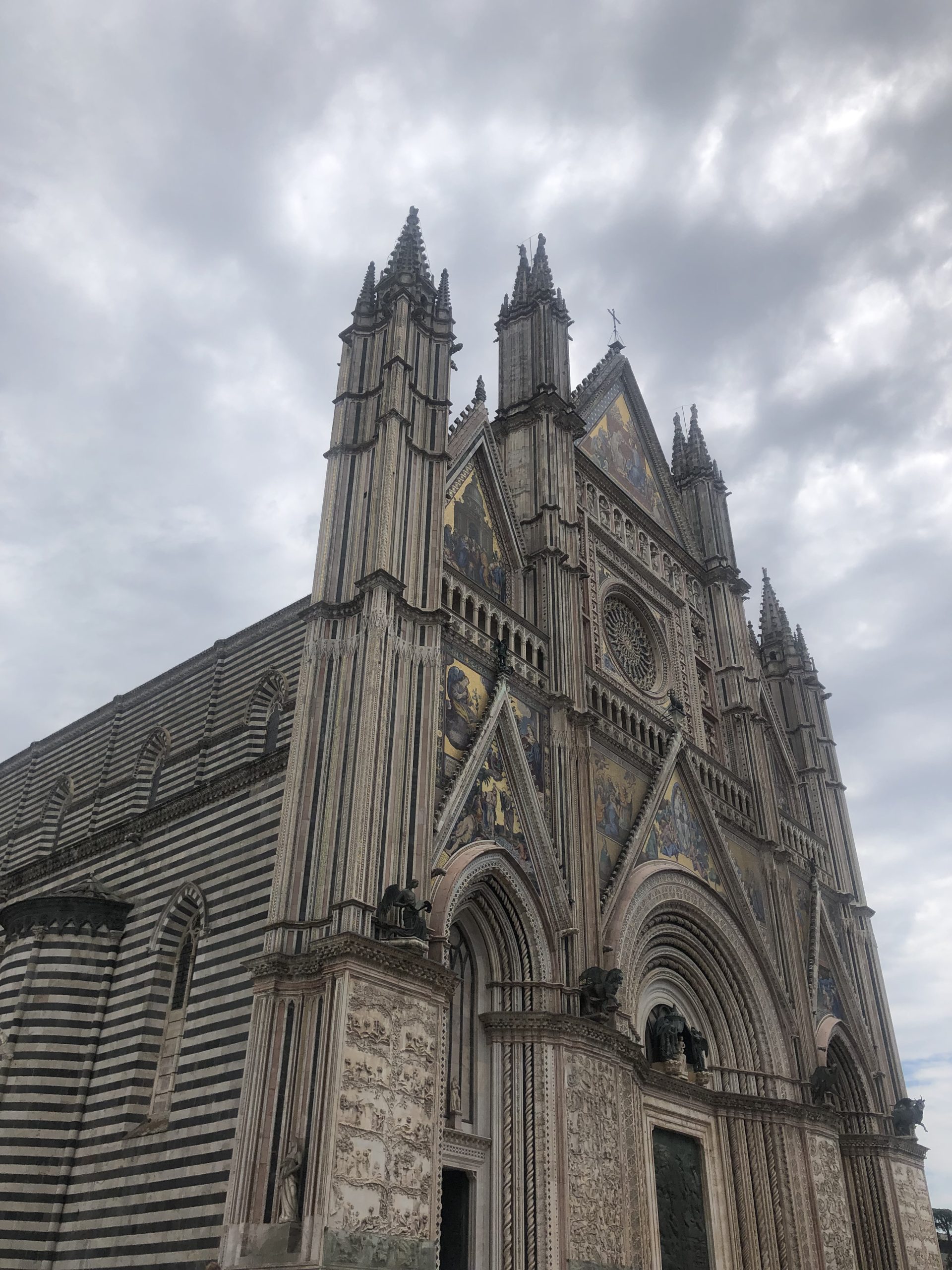 Welcome back to the action! The next two days of the tour are going to be far more relaxed than the past few, with no concerts until later in the week and lots of travel time. But that is not to say that they won't offer the same wonderful experiences, breathtaking sights, and mouthwatering eats as the rest of the tour! Today, we leave Tuscany and set out for the region of Umbria, the only landlocked region on the Apennine Peninsula known for its hills, mountains, valleys, and historical towns. With a travel time of about two and a half hours, it was imperative that we had a good breakfast before setting out. I extended my streak of waking up nice and early, giving me plenty of time to eat before I had to retrieve my luggage.
So, we began loading the coaches at around 9:00, and we were on the road before long. Along the highways, we were able to admire scenic views of vineyards, olive groves, cypress forests, and large hills. We made a long rest stop to allow the buses enough time to refuel, granting us about forty-five minutes to use the bathrooms, grab a coffee, and breathe some fresh air. The day was off to quite the slow start, but this change of pace was welcome especially after how busy we have been as of late. Most of us nevertheless decided not to sleep for the remainder of our journey, instead choosing to talk and laugh with our friends, create several Instagram accounts logging all of our silly experiences on tour, and to just generally enjoy our time travelling together.
Wait, I haven't even told you about where we're headed yet! Silly me. The destination for today is the classic Umbrian hill town of Orvieto, which gets its name from the Latin urbs vetus, meaning old city. A major center of the Etruscan civilization since the ninth century BC, the town became one of the most important in the Middle Ages, sitting on its impregnable rock controlling the road between Florence and Rome. Speaking of which, the entire city is perched on a one-thousand-foot plateau, rising dramatically above the nearly vertical faces of tuff cliffs that are completed by defensive walls constructed of the same stone. Now, as you can imagine, this made it quite difficult for our buses to drop us off anywhere inside Orvieto itself, so when we arrived at the coach parking, we took a long set of stairs and escalators up into the town instead. It seems that they thought of everything!
Our luggage would be brought directly to our hotels so that we could claim them later tonight, which meant we had nothing to worry about as we went on with the rest of the day. We proceeded down the quaint, cobblestone-paved streets until we reached the Duomo di Orvieto, one of the most amazing Romanesque-Gothic cathedrals in the entire country. I know I said that Siena's cathedral was my favorite yesterday, but I just changed my mind. This thing was incredible, with its golden frontage decorated by large bas-reliefs and statues with the symbols of the Evangelists standing on the cornice above the sculptured panels on the piers. On the top gable of the cathedral was a gorgeous mosaic depicting the Coronation of the Virgin Mary in Heaven which, despite its nature as a subject of Catholic art, could be appreciated by any onlooker. We would meet here again after about an hour and a half to have a look inside, but first it was time to grab a quick lunch at one of the many lovely cafes or trattorias in and around the Piazza del Duomo. However, after getting lost in the winding streets for so long, all I had time for was a gelato. What a difficult life I live. (On a serious note, that was one of the best gelatos I have had so far on tour!)
At around 3:15 we gathered once again by the Duomo and made our way inside. I cannot stress enough how amazing this place was to look at. The interior of the cathedral was made up of a nave with six bays and two aisles, cruciform in shape. Along each aisle stood a row of cylindrical columns consisting of alternate rows of travertine and basalt, leading up to a fresco in International Gothic style which overlooks the entire cathedral. Moreover, because the space was left deliberately uncluttered and spacious, we experienced some stunning acoustics inside. You know what that means: it was time to sing. We gathered once more in front of the altar and began singing through all the sacred music in our program. As the final notes of each piece cut off, our voices continued to ring back at us for a good five seconds before the sound eventually dissolved. It was absolutely ethereal.
Making our way back outside, we walked back toward the center of town and began the process of checking into our two hotels, the Hotel Aquila Bianca and the Hotel Palazzo Piccolomini. Our lodgings were split like this because Orvieto, being so secluded and compact, does not actually have a hotel large enough to fit us all, but because we would only be staying for one night, it wouldn't really be a problem. So, we dispersed into our assigned hotels, reclaimed our luggage, received our room keys, and were given carte blanche to do whatever we pleased until our curfew time of 9:15. That left just under six hours for us to explore the city with our friends, do some souvenir shopping and, of course, eat plenty of good food!
First, my small group of friends and I took a walk around the city and found a street behind the hill atop which stood the Duomo, and we came across an ornate drinking fountain, which spits out water from the mouth of a creepy-looking face finished in bronze. What an interesting sight! Then, we did a little shopping before linking up with other friends for a quick meal. I had a large tuna salad with lots of vegetables to change things up, but most of my friends went with one of a few tried-and-true pasta or pizza options instead. As we continued walking we gradually met up with more and more of our friends until we had basically assembled a mini-army of MYO performers, charging down the streets of Orvieto. We ended up eating a second dinner in smaller groups later on, so I was glad that I ate so light earlier, because I had the most delicious lamb chops ever served with the most perfectly seasoned potatoes. It was safe to say that I was stuffed at this point! The rest of the evening was spent mostly relaxing, whether that meant continuing our pleasant walks through the city or playing cards in the lobby of our hotel. Most of us seemed to think that this was the most enjoyable evening we have had on the tour so far, and I would happen to agree!
And just like that, another day was in the books. It was a shame that we would only get to spend one afternoon in this wonderful town, but at least now I know a good spot to visit should I ever find myself in Italy again. Regardless, our travels continue bright and early tomorrow as we leave Umbria and head for the regions of Lazio and Campania. Now if you'll excuse me, I have a shower to take before I hit my pillow for the night. Catch you later!