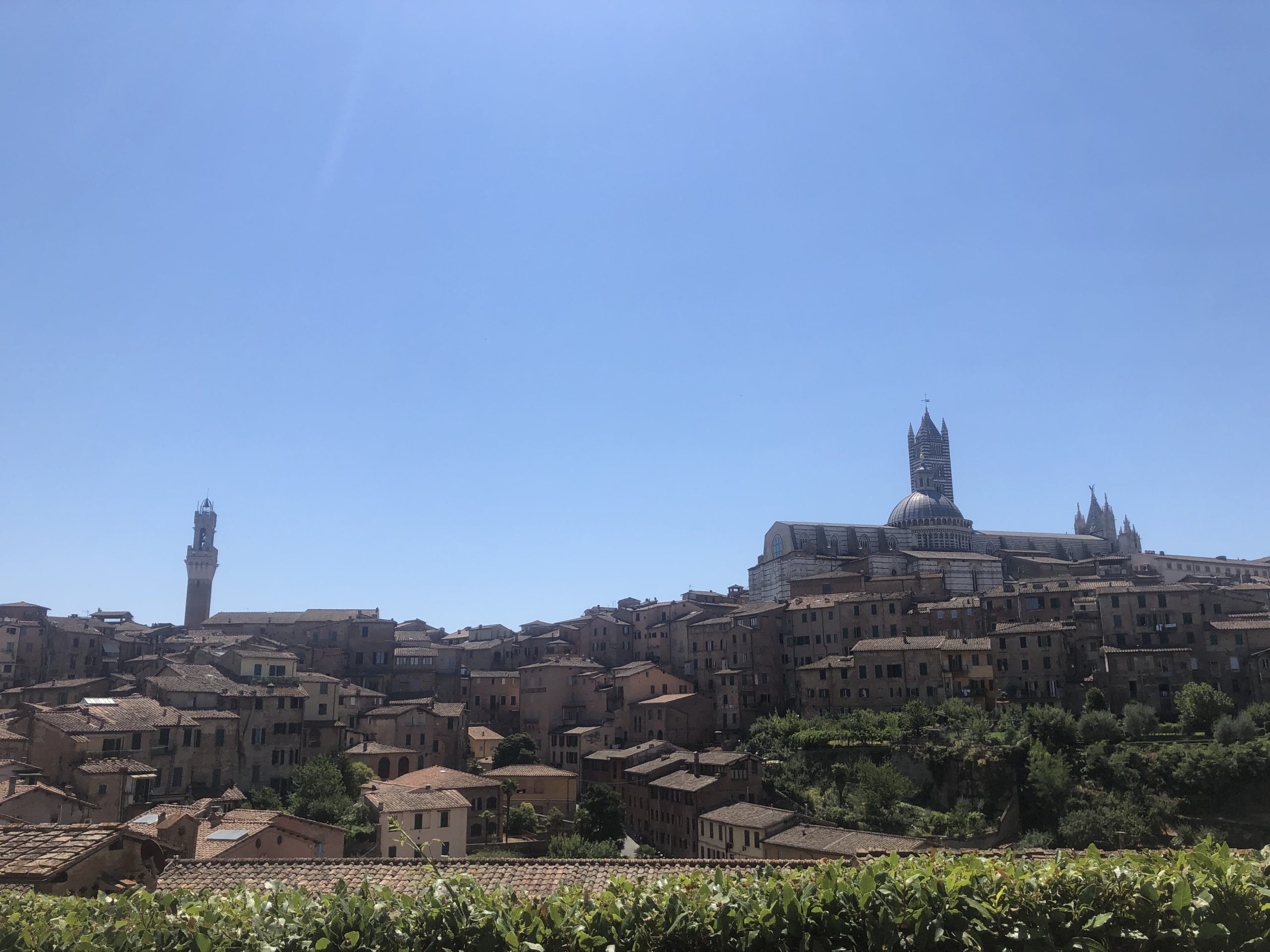 Man, it felt good to wake up on time this morning! I purposefully started setting my alarm ringtones to the loudest EDM tracks I could find with the goal of never missing another call time again. Let's see if I can keep that up throughout the rest of the tour. Anyway, now that I had risen early, I had about two hours to get dressed and eat breakfast before we were scheduled to meet in the lobby again at 9:00 for our next adventure. Although not as long as our day in Florence yesterday, today was set to be another day full of sightseeing and fun, after which we would get to perform a concert for the second night in a row. So without further ado, let's get moving!
Our destination today was the city of Siena, another medieval-age city in the center of Tuscany. The city is historically linked to commercial and banking activities, having been a major banking center until the fourteenth century. Siena is also home to the oldest bank in the world, the Monte dei Paschi bank, which has been operating continuously since 1472. The city is also distinguished by its unique layout and cityscape, with most buildings being made of medieval brick. The central square, called the Piazza del Campo, is the site of the Palazzo Pubblico, a Gothic-style town hall, as well as the Torre del Mangia, an iconic landmark tower with sweeping views from its distinctive white crown. Siena also hosts many horse racing events, most notably the Palio di Siena, held biannually right in the square itself.
So, we boarded our buses and began the hour-and-a-half-long journey to Siena which, while it sounds long on paper, actually went by quite fast with all of our typical bus antics. Upon our arrival, we disembarked just outside of the walls of the Fortezza Medicea, a huge brick fort which makes up a part of Siena's main public gardens. From there, we continued down the winding streets until we arrived at the Basilica Cateriniana San Domenico, a Gothic-style Catholic church perched atop a large hill, from which we were able to get a stunning view of the entire city. It was here that we would begin our guided tour of Siena, led by local guides just as yesterday.
It was scorching hot out at this point, but we pressed on nonetheless until we reached the Duomo di Siena, a grand Romanesque cathedral with an ornate, marble-clad exterior. Of all the churches and cathedrals we have seen thus far, I think this one was my favorite. It was just breathtaking! We also passed underneath the Facciatone, an unfinished church façade which was converted into an observation deck and gateway into the Piazza del Duomo. From here, we walked down some of the narrowest streets you could ever imagine lined wall-to-wall with houses, with some even hanging freely above the cobblestone road. However, our guided tour would soon conclude as we reached the aforementioned Piazza del Campo, which was honestly one of the coolest looking town squares I had ever seen. Not only was it shaped like a giant hand fan, but it was also completely sloped from the Palazzo Pubblico up to its border, which was lined with all sorts of restaurants, gelato shops, and archways leading up into Siena's other districts.
Before we were let loose into the city, a few things happened. First, we met up with the Family and Friends Tour once again, which would be able to mix with the Performance Tour for lunch and some free time like in Florence. Then, we made our way into the Cortile del Podestà, a secluded courtyard directly under the Torre del Mangia, and it was here that we got to experience another emotional moment. The choir began to sing, starting with the "Ave Maria" and then a few of our other sacred selections. But it was when we broke out into "Hallelujah" that the tears started to roll. I was reminded here of a similar moment from the tour back in 2018, where we sang the very same song in the central square of Prague with a traveling band of Polish singers we had met. Moments like these are reminders of the deep connection I feel not only to music, but also to my friends. We were like one big family.
We marched back out into the square to the tune of "Bonse Aba," and it was there that our mini-concert ended as we prepared to split up for about two hours. From here, many of us branched off into the streets of Siena's inner districts to do what we do best: eating and shopping! It really never gets old, especially since every city has its own unique cuisine and culture. My family and I bought a box of lemon biscuits which, according to our tour managers, were to die for. Just looking at all of the different pastries in the bakery we had stopped in made me even more hungry, so I led my family back to the main square. I had a delicious three-cheese pizza with pepperoni and olives, which filled me right up, leaving room for only another round of gelato. Ah, pizza and gelato—there's no better combination on the planet!
Unfortunately, it came time to leave far too soon, though we still had our evening concert to look forward to. And so, we parted ways with the Family and Friends Tour, made our way back to the Fortezza Medicea, and boarded our buses for the return trip to Montecatini Terme. We took an hour to relax, freshen up, and get dressed for the concert tonight once we arrived back at our hotel. Our dinner was waiting for us in the hotel's dining hall, and we ate heartily before setting out for our concert venue, which was just a short walk from the hotel.
The venue tonight was the spectacular Terme Tettuccio, an open-air spa that is said to be the most beautifully decorated of them all in Montecatini, typically open to those who want the full treatment or only to taste the mineral water on tap. But tonight, we would be filling it with the sound of our voices and instruments. After a brief sound check by each ensemble, the front gates were opened and our audience was let in. There was not a seat empty; in fact, the house was so full that some audience members had to stand behind and around where the rows of chairs were set up in order to watch the concert. By this point it was around 9:00 in the evening, and thus we were ready to begin.
The concert opened with two fanfares performed by the orchestra's brass players, including an arrangement of Gavotte No. 1 from Bach's Cello Suite No. 6 for brass quintet. And despite still feeling tired from the previous day's concert, both the choir and orchestra performances that followed were fantastic! Each ensemble received a standing ovation at the end of its program, and another after our combined performance of "Va, pensiero." And with that, another successful night of music-making comes to an end.
On our way back out of the Tettuccio, we came upon another youth orchestra group from the Netherlands, and exchanged conversations with some of its members and took a giant group photo in front of the gate. What a wholesome way to cap off another great day! Hey, that rhymes. Anyway, we've got a few long days of travel ahead of us, so I think it's about time for me to get packing my bags and head off to bed for the night. Until tomorrow my friends!