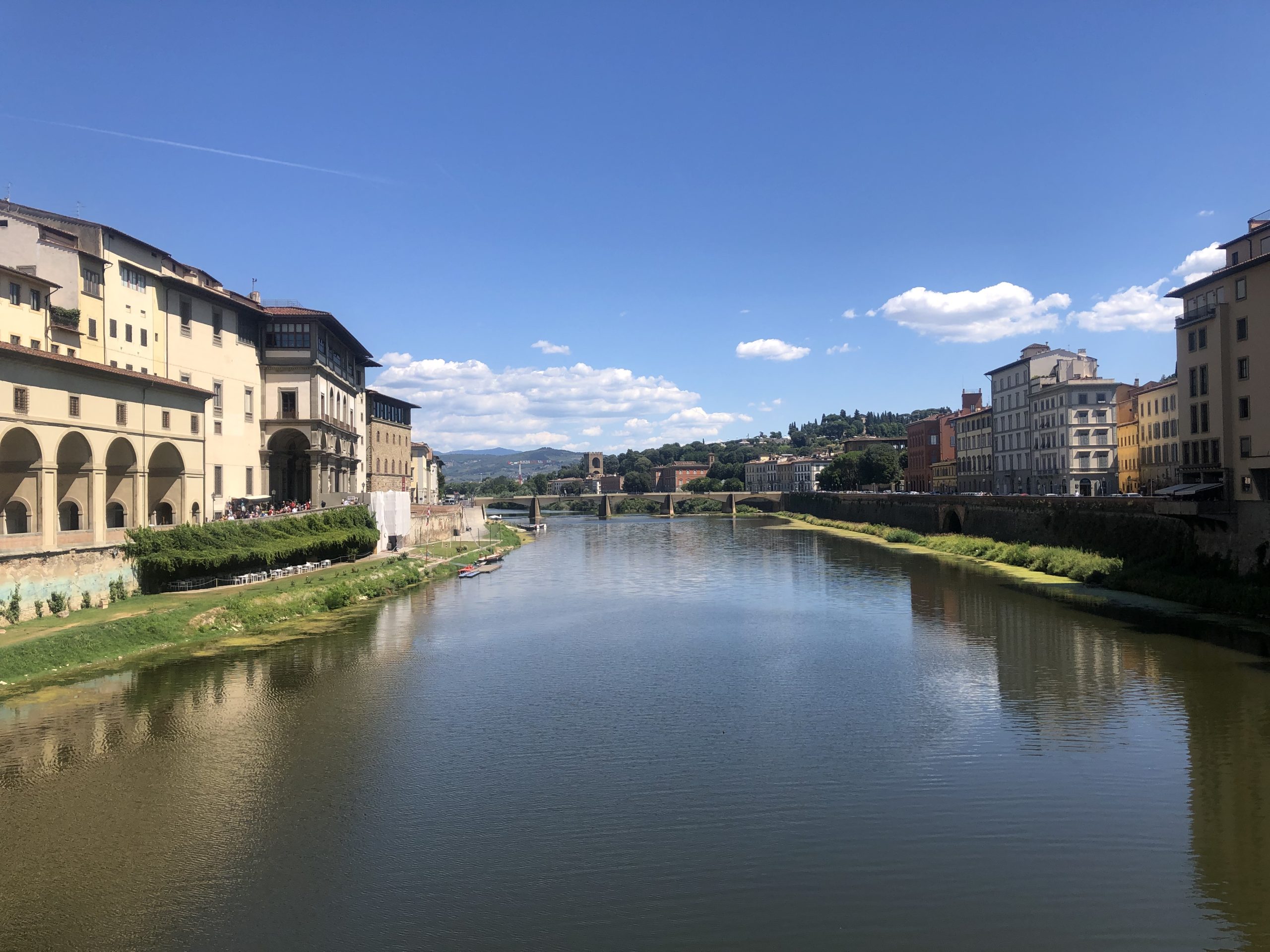 Benvenuti once again! I cannot wait to tell you all about the wonderful things we did today, so let me waste no time. Today, we visited Florence, the capital of the Tuscany region and one of the principal artistic and cultural centers of Italy. And not only did we get to experience this magical city for the day, but we also got to perform an epic concert in one of the most iconic spots in the entire country. Get your popcorn ready, because we have a lot to go through!
So, here's a funny story about this morning—well, it wasn't so funny at the time but I can laugh about it now. I actually overslept our 9:00 call time in the lobby by about fifteen minutes, so this morning was a complete scramble for me. My one saving grace was that I had prepared my bag last night, so I was just able to throw on my clothes and run out the door. We were to bring everything we needed for the day today, including our concert attire, as we would not be returning to the hotel until after our concert tonight. And while I did get made fun of all morning for being a sleepyhead (deservedly so), I was still excited for the day ahead.
The bus ride to Florence was about fifty minutes, but soon enough we had arrived on the Ponte alle Grazie, one of the bridges overlooking the Arno river. Our buses had a special permit to stand here as we disembarked and began walking into the city, but not before a few quick pictures of the view. We made one quick stop in a building where we could drop off instruments, our concert clothes, and anything else we wouldn't need while sightseeing. Then, we made our way to the Piazza di San Firenze where we would meet our local Florentine tour guides and embark on a walking tour of the city.
Our first stop was the Piazza del Duomo where we were greeted by the magnificent Cattedrale di Santa Maria del Fiore, also known as Florence Cathedral. Not only is this Gothic-style basilica one of Italy's largest churches, but it also is home to the largest brick dome ever constructed. The entire exterior of the cathedral is lined with polychrome marble panels in various shades of green and pink with white borders, a design which lends itself to the grandeur of the structure. What a sight this was!
After we had taken all of our pictures, we proceeded down the busy streets of Florence until we reached a large, open square known as the Piazza della Signoria. This square is considered to be the heart of the city, dominated by the 14th-century crenellated tower of the Palazzo Vecchio. Additionally, we saw the statue of Cosimo di Giovanni de' Medici, a banker who established the Medici family as effective rulers in Florence during much of the Italian Renaissance; the Fontana del Nettuno, a fountain commissioned by Cosimo de' Medici which depicts the Roman sea-god Neptune; and a replica of Michelangelo's David, a world-famous masterpiece of Renaissance sculpture. We also got a chance to see the Loggia dei Lanzi, an open-air sculpture gallery of antique and Renaissance art consisting of wide arches open to the street, as well as our concert venue for tonight. I could not believe my eyes. It's not every day you get to perform in one of Europe's most recognizable squares!
We continued down the street, passing by the Piazza di San Firenze once again, which was established as our meeting point after our free time in the city. Upon arriving in the Piazza di Santa Croce, in front of us stood the Basilica di Santa Croce di Firenze, a Franciscan church which is the burial site of numerous Italian influentials, including Michelangelo, Galileo Galilei, Niccolò Machiavelli, and Gioachino Rossini. It was here that we said goodbye to our local tour guides as our walking tours ended, and hello again to the Family and Friends Tour, which would be able to intermingle with the Performance Tour during our free time. But, before we split off, we were all ushered into a small leather shop where we enjoyed a brief presentation about Florentine leather. But at this point, I was starting to get hungry, and so I met up with my family to grab some lunch at one of the many restaurants on the square.
The food in Florence did not disappoint! I had an amazing Calabrese-style salad and a pizza topped with eggplant and olives, with two scoops of hazelnut gelato to top it all off. And it seemed that I wasn't the only one enjoying such extravagant eats, as I saw many of my friends enjoying similarly delicious meals. Many of us also took advantage of the several stores and souvenir shops in and around the city center, and some even got caricatures of themselves drawn by street artists. Personally, I took my family down the Piazzale degli Uffizi toward the river, and we made our way onto the Ponte Vecchio, a stone closed-spandrel segmental arch bridge lined with shops and one of Florence's oldest bridges.
Eventually, it came time for the Performance Tour to return to its previously established meeting place in the Piazza di San Firenze, and so we all gathered in the square together and started for the building in which we left the rest of our belongings. Once there, we had the chance to change into our concert dress and collect everything we had left, so that we could return to our concert venue to set up and rehearse. And that we did for about one hour, giving both the choir and the orchestra ample time for a good warm-up and sound check. Now, there was only one thing left to do before our concert: eat! We all went over to a local restaurant, Osteria de' Baroncelli, to enjoy a quick group dinner before showtime. Although the first course of pasta was starting to get a bit repetitive at this point on the tour, almost all reviews on the food tonight came back positive.
And now, the moment you've been waiting for eight paragraphs to arrive: it was concert time. Hundreds of people gathered in the middle of the Piazza della Signoria to listen to us sing and play. But what made this night even more incredible was that with every new piece, the crowd continued to grow larger. After phenomenal performances of Elgar's Cello Concerto in E minor and Capriccio Espagnol, over a thousand people must have been assembled in the square. Both ensembles joined once again to perform the ever-delightful "Va, pensiero" chorus, a fitting conclusion to a truly unforgettable night of music in Florence.
Phew! What a day, huh? Well, you might have thought we were all exhausted by the time our concert was over, but the choir bus was still full of energy on the way back to our hotel; I was still a little hyper myself, if I must admit! But by the time we arrived, the fatigue from our long day finally caught up to us as we all scurried up to our rooms to call it quits for the night. I'm about to do the same, as a matter of fact, but not before I finish writing this for all of you, of course! Stay tuned for more tour shenanigans tomorrow as we visit one last Tuscan city before moving on to the next leg of our trip.