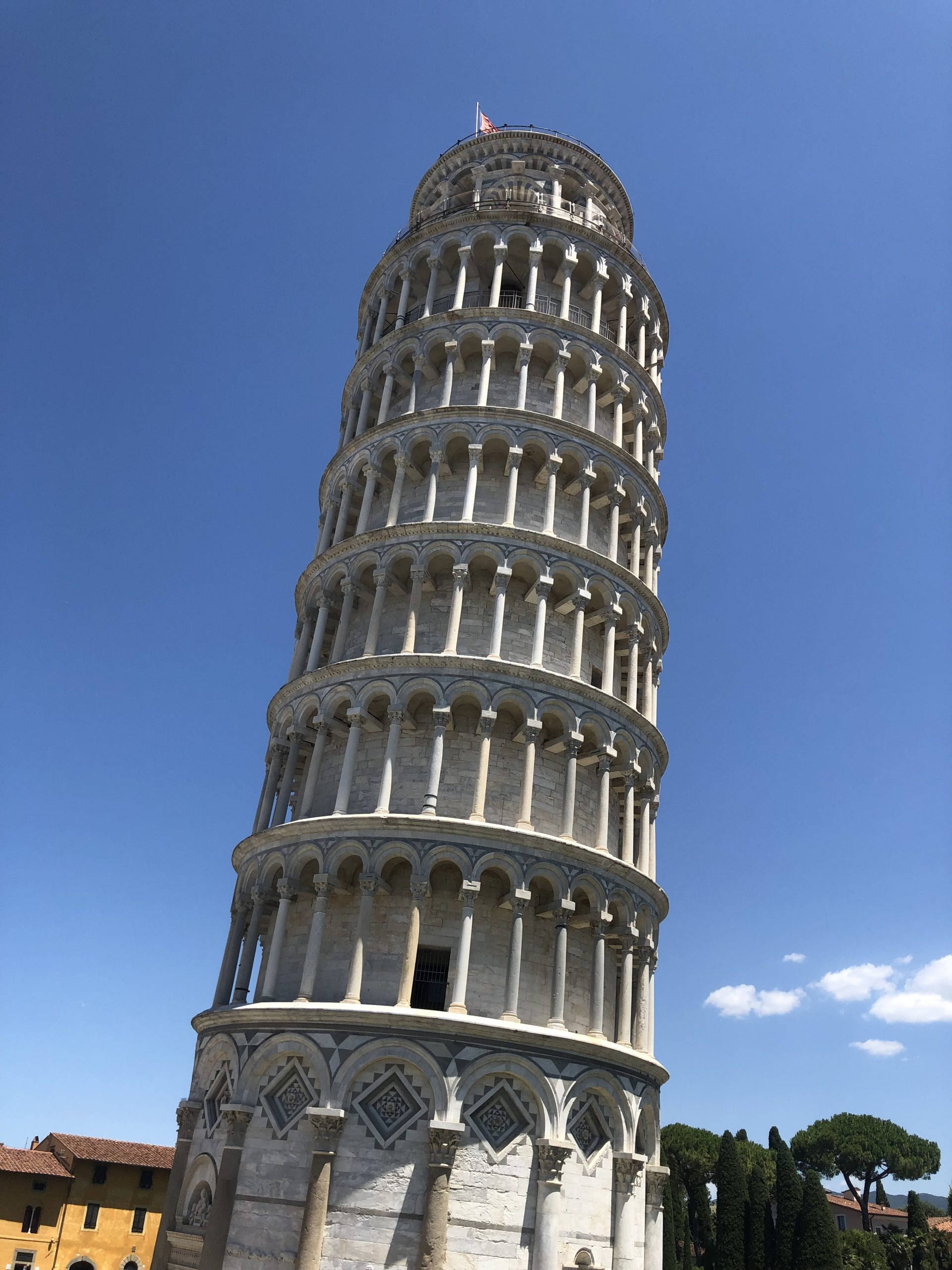 Good morning! Well, it's actually almost midnight the next day as I write this, but we'll pretend it's still the morning so I can have my fun. So, good morning, and welcome back! Today was another of our long travel days as we proceeded to Tuscany and our next hotel in Montecatini Terme, just twenty-five miles northwest of Florence. In between we'll be making two stops in two of Italy's most famous locales. All right, let's hit the road.
The performance tour enjoyed a late 9:00 call time in the lobby this morning, which gave me plenty of time to eat a nice, solid breakfast. Ha! That would have been nice, right? No, I actually slept until 8:30 and barely escaped with some scrambled eggs and a croissant. Luckily, I packed my belongings the night before, so I made it comfortably to the lobby in time for our departure. We loaded the coaches and travelled for about an hour and a half to our first destination of the day, which I can't really keep secret for much longer, partly because of the picture that you can see very clearly at the top of this page and also because I'm about to reveal it in the next paragraph!
Today's first stop is the iconic city of Pisa, in the north of Italy's Tuscany region. Although the city is most famous for its leaning tower, the city contains more than twenty historic churches, several medieval palaces, and bridges across the Arno river. It is also home to the University of Pisa, one of the oldest and most prestigious universities both in Italy and in Europe. The city center also houses the Cattedrale di Pisa, a marble-clad cathedral; the Battistero di San Giovanni, a large baptistery with panels by renowned sculptor Pisano; and the Piazza dei Cavalieri, which during the Middle Ages was the political and civil center of Pisa. Moreover, much of the city's architecture was financed from its history as one of the Italian maritime republics, including the walls that surround the city, which were erected in 1156.
There's your first history lesson of the day. Get ready for a few more as we hit our next stops! Anyway, after a quick rest stop for the bathroom, it was only a matter of time until we would arrive in Pisa. As our buses were forced to park quite far from the central city area, due to the thinner roads and high pedestrian traffic, we all walked together to the Piazza del Duomo where we would be released into the wild for an hour and a half. And after walking through a large gate leading into the square, there it was. What a sight! In front of us stood the fabled Leaning Tower of Pisa in all of its glory. As you can imagine, many of us rushed to take that one tourist photo where you angle it just right so it looks like you're holding the tower up with your hands, and that kept us busy for a long time. I even got a sneaky peek inside the cathedral, and it was just heavenly!
Pisa also served as our lunch spot for today, and I had myself yet another pizza with a different group of friends. That's another thing I love about the vibe of the tour, that anyone is willing to welcome you into their group and that you'll find yourself hanging with a different set of people every day. It really builds a sense of family among these ensembles, and that is something I am truly grateful for. But alas, too soon it was time to return to the gate and continue our travels, but not before one final group picture! Then, we walked the same route back to the lot where our buses stood waiting, and set off for the city of Lucca!
Now, Lucca is another one of Italy's most well-known cities. Besides being the birthplace of numerous world-class composers, including Giacomo Puccini and Luigi Boccherini, Lucca is known for its extremely well preserved historic architecture, such as its still-intact Renaissance-era walls and the 150-foot-tall Torre Guinigi. As we walked down the cobblestone streets, we came upon the Piazza San Michele and the Chiesa di San Michele in Foro, a massive basilica church from the twelfth century with a grand facade, which would serve as our meeting point. The square also occupies the site of the ancient Roman Forum in Lucca, where Julius Caesar, Pompey, and Crassus reaffirmed their political alliance known as the First Triumvirate as part of the Lucca Conference.
With only about two hours to explore this wonderful city, we had no time to spare. Some small groups immediately flocked to a number of gelato shops to enjoy a quick treat, while others entered the Puccini Museum, explored the inside of the basilica, and rented bicycles to tour around the city. Even as we gathered a few minutes before our recall time in the central square, many of my friends returned with clothes, jewelry, books, and other items they found while shopping. One group in particular visited a candy store called Candy Lisa, whose signature confection was—let's just say—quite peculiarly shaped, but at least it gave us a laugh and an excuse to enjoy some last-minute sugar before heading out.
But, of course, we could not just leave without singing at least one song! So, the choir broke out into "Bonse Aba" right on the steps of San Michele in Foro. That tune in particular is slowly becoming one of our favorites because of how catchy and uplifting it is, and because of how easy it is to sing literally anywhere at any time. As more locals started to gather, the choir also gave a lovely a cappella rendition of "Erev Shel Shoshanim." These sorts of moments are some of the most magical on tour, as we get to witness the truly vibrational and transformative nature of music, and the feelings of unity and family which it evokes. There is no doubt in my mind that we will experience many more such moments on tour.
So, with our impromptu concert coming to an end, it was back to the buses and off to Montecatini Terme, where we would be staying for the next three nights. The town is known for its spa culture, which makes it a particularly popular spot for tourists. In fact, its famous mineral springs and its eighteenth-century architecture representing the popularity of spa resorts in Europe earned it a UNESCO World Heritage Site designation. But unfortunately, we wouldn't really get a chance to explore the town at all, except for on the night of our performance here two nights from now.
It was only about half an hour until we arrived at the Grand Hotel Nizza et Suisse, our hotel for this leg of the trip. After room keys were distributed, we all took some time to get settled into our rooms and unpack our belongings. We also enjoyed a nice three-course dinner in the hotel's dining hall a little while later, which was perfect because I was getting seriously hungry after such a long day. But, eventually it was time to return to our rooms and retire for the night, which brings us at last to the present moment!
Tomorrow is set to be an even busier day than today. I know you're probably wondering how that's possible after reading everything you just did, but trust me when I say that you won't want to miss any of the action. That said, I'll be right back here tomorrow night to give you the full scoop as always, but right now I should really get some shut-eye!