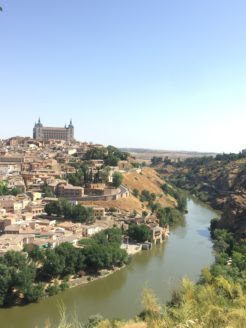 As we drove into Toledo in the morning, we were able to get a panoramic view of the beautiful city. The houses are situated on high ground, and the region is very mountainous and picturesque. One of the first views we were able to see as we drove into the city was the Tagus River. The river flows in between the mountains, and a castle can be seen in the distance.
We were able to go into a shop that handcrafts jewelry out of different metals with their specialty being gold. The musicians enjoyed watching two craftsmen shape the metal and pick out pieces of gold to make into a bracelet, respectively. In the giftshop, there were various handcrafted items for sale such as earrings, necklaces, bracelets, and even swords and daggers! We spent quite a large amount of time in the shop picking out items for ourselves and for our loved ones back at home!
After leaving the shop, we took a walking tour of the town of Toledo. Although it was over 100 degrees fahrenheit (30 degrees celsius) outside, we cooled off during lunchtime where we could explore the shops and grab a bite to eat.
Our next stop in Toledo was the magnificent Cathedral of Toledo, a 13th century Gothic cathedral. The cathedral was built with such incredible detail and precision, making it one of the most beautiful stops on our trip so far.
Later, we boarded back onto the buses for a 4 hour ride to Granada. Granada is well known for its delicious tapas, so we hope to try some while we are here for the next few days!
Tomorrow we will be performing at the Festival Internacional de Música y Danza De Granada at the Manuel de Falla Hall. It will be a huge performance for MYO, so we cannot wait!
Please Like our Facebook page and follow us on Twitter for the most up-to-date MYO news!