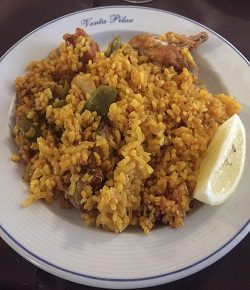 Today we spent the day visiting Valencia's most important buildings and shopping areas. In the morning, we drove around the city to get a general view of the area before getting off the buses and going deeper into the sights. First, we stopped at the Ciudad de Las Artes y Las Ciencias, the Aquarium and the Opera House. The buildings were constructed in such unique shapes, leaving the interpretation up to the viewer.
Next, we drove into the heart of Valencia to see the largest market in Spain, El Mercat Central, amongst other shops in town, and two more cathedrals! We were then given free time to grab lunch, buy souvenirs, and enjoy Valencia's shopping area.
Shortly after our lunch hour, we drove back to the hotel to change into our concert dress and then headed to the small city of Buñol to the site of our evening concert. Upon arrival at the Teatro Monte Carlo, we had a quick soundcheck before walking to dinner. Tonight's dinner was very special because we had some traditional paella! Valencia is well known for this rice, seafood and chicken dish, so we were in for a real treat.
Following dinner, we returned to the concert venue and performed our fifth concert of the tour. Tomorrow we'll be off to Barcelona; our last stop on this incredible tour!
Please Like our Facebook page and follow us on Twitter for the most up-to-date MYO news!