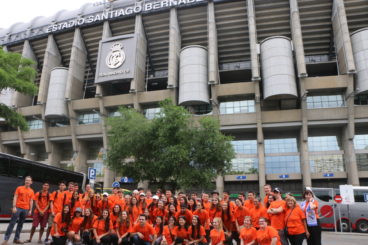 After a long overnight flight to Madrid, the tour orchestra, choir, chaperones and shadow tour participants boarded two coach buses for a panoramic tour of the city.
The first stop on the bus tour was el Estadio Santiago Bernabéu, a sports stadium owned by Madrid's very own Real Madrid football club. Built in 1947, the stadium can hold up to 81,044 spectators.
Next, we visited la Plaza de Toros, a beautiful revival Moorish structure built in 1929.
Coincidentally, the MYO tour arrived in Spain on the same day as the first day of the festival of San Fermín, which is famous for its weeklong Running of the Bulls tradition in Pamplona. During this festival, bulls are released from the countryside and people from all parts of Spain run in front of them, ultimately leading the bulls into a city bullring for an afternoon bullfight.
Later, we saw various landmarks such as the Columbus Monument and the Alcalá Gate before taking a walking tour downtown with a local tour guide. We saw the Royal Palace, where the Spanish royal family lived until the early 1900's, as well as a nearby Cathedral. Then, we explored on our own for a while – many of us tried local delicacies such as jamón and churros.
After a full day, we finally arrived at the hotel and settled in before dinner. Tomorrow we wake bright and early for a morning rehearsal and a day full of even more sightseeing!
¡Hasta mañana!
Please Like our Facebook page and follow us on Twitter for the most up-to-date MYO news!