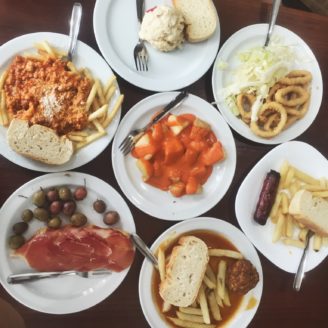 After spending a very long day at the Alhambra and performing at the Festival Internacional de Música y Danza De Granada, the tour orchestra and choir took a day off. We were given free time to roam around Granada in groups to shop, eat and explore! Some ventured off to a cathedral near the hotel while others experienced a tapas lunch in the heart of the city.
A tradition Granada has at tapas bars is that with the purchase of a drink, you get a free plate of tapas! Tapas, originating from the Spanish verb "tapar", meaning "to cover", is a small plate of an appetizer of your choosing. The Spanish would cover (tapar) the glasses of wine on the table with a piece of bread to keep the flies from getting near it.
Later in the day, we set off to the coastal town of Salobreña for a pre-concert dinner. The restaurant overlooked the Mediterranean, so everyone enjoyed taking pictures overlooking the ocean while waiting for the food to arrive.
Our concert at the Auditorio Villa de Salobreña José Martín Recuerda began at 9pm. The auditorium was quite small, but we still had a full house and there were even people standing outside trying to get inside to hear us play and sing! Some audience members, originally from England, were vacationing in Spain and came to see our performance! Many of them were familiar with the choir music so they sang along with them.
The closing concert of the local extension of the Granada Festival was a success, and it was an honor for MYO to be a part of it!
Please Like our Facebook page and follow us on Twitter for the most up-to-date MYO news!