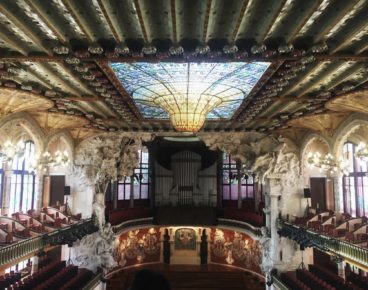 This morning we departed for Barcelona! The time just flew by on this five hour bus ride, and we made it to the city in no time. Once we arrived, we stopped at the Plaza de Catalunya for lunch. The Plaza de Catalunya is the equivalent of New York's Times Square; it's packed with tourists and souvenir shops!
After lunch, we took a short walk to the Palau de la Música Catalana; Barcelona's Carnegie Hall. A guide took us around the beautiful building and shared with us the history behind the architecture of this gorgeous venue. We were all in awe and wished we could perform there one day!
Later in the afternoon, the buses took us to the highest point of the city of Barcelona, Montjuïc. The view was incredible. We could spot things like yachts on the Mediterranean, and La Sagrada Familia from afar. This was the perfect opportunity for picture taking before we headed off to dinner.
Tomorrow we will continue exploring Barcelona with some local tour guides! We will see sights such as La Sagrada Familia (exterior) and Gaudí's famous work, Park Güell.
Please Like our Facebook page and follow us on Twitter for the most up-to-date MYO news!