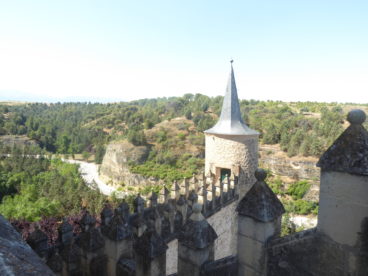 Today we traveled out of Madrid and into the town of Segovia to visit the Alcázar de Segovia and Roman Aqueduct. As we walked through the castle, our tour guides explained to us the history behind each decade of kings and queens in Segovia. We saw different rooms inside the castle such as the armory, the king and queen's bedroom, and the dining room. The Roman Aqueduct was a large structure and although it no longer carries water, it was still quite impressive.
After touring and lunching in Segovia, we took a two hour bus ride to the town of Medina de Rioseco, where we rehearsed and then played a concert later that night. We performed in the beautiful San Francisco Church and Museum of Medina de Rioseco.
The audience enjoyed the concert very much, and many said the music was quite moving.
MYO was thanked by the people of Medina after the orchestra and choir's performances and gifted a small statue of a gate. We were told that the gate t Medina, and Spain as a whole, was always open for us to come back, perform and share our music with the country. We, too, were moved by this gesture from the people of Medina and had a wonderful time performing at this venue.
Please Like our Facebook page and follow us on Twitter for the most up-to-date MYO news!