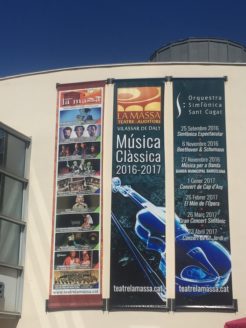 We woke up bright and early today to visit Park Güell, a park created by the famous architect, Antonio Gaudí. This beautiful park is filled with colorful tiles of different shapes, sizes and designs. Gaudí's inspiration for the park sparked during a naturalist phase he had in which he used organic and natural shapes to create art. For example, instead of completely removing a fallen tree from the scenery, he would create a structure around it, making it into something new and unique. One of the main attractions in Park Güell is a statue of a large, tile-printed salamander that sits in the middle of the park. Although we were only here for a short period of time, we enjoyed the park's beauty and took plenty of pictures of the scenery.
Afterwards, we drove a short distance to another one of Gaudí's famous works, La Sagrada Familia. This large Roman Catholic church in the heart of Barcelona is well known around the world for its magnificent stained glass windows, 10 towers and underground chapel. The construction of the Sagrada Familia began in 1852 and its estimated time of completion is 2026, exactly 100 years after Gaudí's death. At first glance, the church is quite overwhelming, but still gorgeous. It is filled with many unique shapes, prints and colors similar to Park Güell, but this structure is entirely different even though it was constructed by the same architect. We did not get to visit the inside of the church today, but many of us will be touring it tomorrow during our free day in Barcelona!
Tonight was our sixth and final concert of the tour! We performed at Teatre La Massa in Barcelona. This concert was definitely one of our best this tour, as we learned more and grew from the past performances. We were all more accustomed to performing in different venues with smaller or larger audiences, depending on the night. For many of us, it was our first time touring with MYO and performing for such large audiences, but performing in Spain was definitely an unforgettable experience.
After the concert, we celebrated our performance with dinner at 10pm, the usual time people dine in Spain! The dinner was well deserved though, after our outstanding final performance.
Then, we headed back to the hotel for a good night's rest before our final day in Spain!
Please Like our Facebook page and follow us on Twitter for the most up-to-date MYO news!