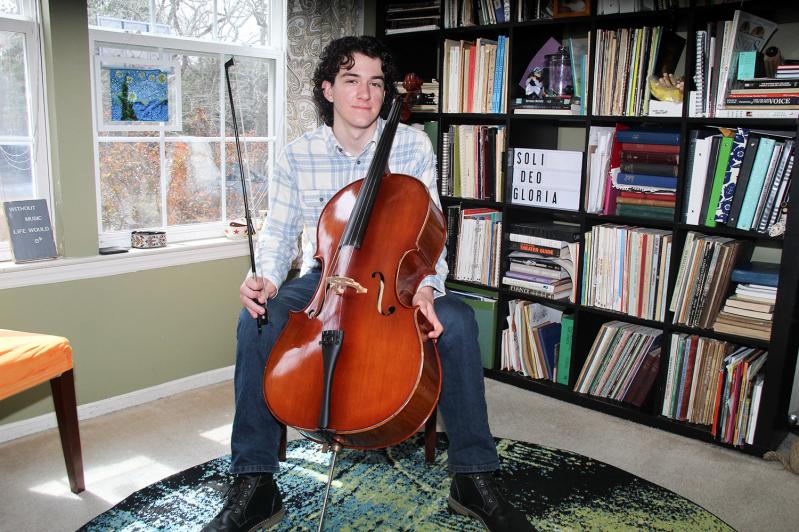 East Hampton Cello Prodigy Plays Carnegie Hall
Published: April 28, 2022 at easthamptonstar.com
Elijah Jones was inspired to pick up the violin when, at the age of 4, he would watch and listen to his oldest brother, Micah, playing it. But after Elijah studied violin for two years himself, it didn't feel quite right. Coming from a long and distinguished line of musicians on both sides of his family, the question then became: What would be the instrument that sang to his heart.
The answer was the cello.
It came to him four years ago, when he was in fourth grade at the John M. Marshall Elementary School, upon hearing the prelude to Bach's Cello Suite No. 1 for the first time. The deep, low tones of the bass clef, which is the first set of notes a cellist learns, appealed to him more than the violin's higher range, known as the treble clef in musical notation.
"I fell in love with that song — then I really wanted to play cello," he said. "The melody seemed really cool to me. I started practicing every single day and got really into it."
Elijah, now an eighth grader at East Hampton Middle School, is poised to take his love of the cello all the way to Carnegie Hall as a member of the Metropolitan Youth Orchestra, a select group of elite musicians from across Long Island. Few middle school students are ever chosen to play in the M.Y.O.'s Suffolk County principal orchestra, its highest level, but Elijah learned in October that he had made the cut.
"I was sick that day when it happened," he recalled. "I was just chilling on the couch like a complete zombie. I just wanted to sleep. Just as I was about to sleep, my parents came down yelling that I made it in."
Elijah's mother is Amanda Jones, who is a prolific music teacher and theater accompanist, the musical director of the First Presbyterian Church of Southampton, and a founder of South Fork Performing Arts, a theater group for youth. His father is Ben Jones, who teaches music at the Springs School, performs in the Sag Harbor Community Band, and plays for church services and weddings. In addition to his eldest brother, Micah, Elijah has another older brother, Silas, an East Hampton High School student who plays guitar, sings, acts, and tap dances.
Elijah's Carnegie Hall concert is Sunday, when the 120-member orchestra — combining Nassau and Suffolk students for the first time — will play the "Mars" movement from Gustav Holst's "The Planets," plus the Roman Carnival Overture by Hector Berlioz and a stunning arrangement by Philip Rothman of "America the Beautiful." Elijah is well prepared for the challenge, according to Phil Preddice, a longtime teacher and composer who directs the Suffolk County principal orchestra.
Elijah plays with a "wonderful, soulful sound," Mr. Preddice said. "He is one of the youngest, but he is also doing a great job on the music and what he's been asked to do. His skills are outstanding, and he's the nicest kid in the world."
Mr. Preddice said there have been a few kids from the East End over the years, and he complimented the "small-town level" of musical wonder that happens through the "quality teaching that goes on" here.
Elijah, who played in a different M.Y.O. ensemble virtually during the pandemic, loves the challenge that it presents.
"You play more professional music, more adult music," he said. "They do give us very complicated music." Rehearsals meant driving to Patchogue a few times a week.
Elijah recently took part in the New York State School Music Association's annual festival, earning an "outstanding" score — the highest rating possible — with a Level VI cello piece, Jean-Baptiste Bréval's Concerto No. 2 — also the highest possible level. Most students competing at N.Y.S.S.M.A.'s toughest category are high school juniors and seniors.
He aspires to attend the Juilliard School and play in an orchestra, such as the Berlin Philharmonic or London Philharmonic, that will allow him to travel the world.
"I feel that it's a part of me, the cello, rather than just an instrument that I play," Elijah said. "If stringed instruments didn't exist, then I wouldn't be the person that I am now."