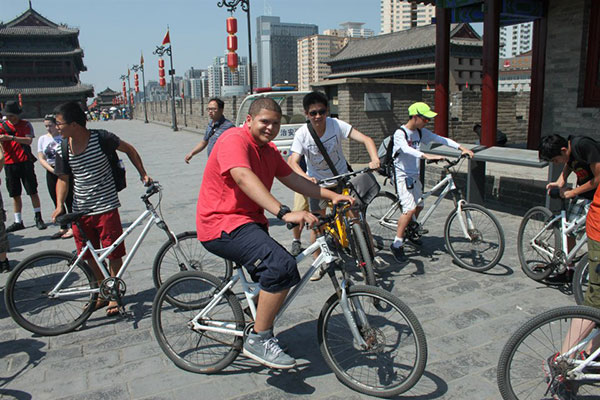 An early departure from the hotel put us on the road to the Chengdu airport. The morning was spent moving through airports and an uneventful arrival in Xi'An. This city has changed so much since we were here in 2006! New high-rise buildings up-scale department stores have created an entirely new skyline for the city. The old city, within the ancient city walls, has less development because high-rise construction has been forbidden there.
Our first stop was a visit to the east gate of the city wall where we climbed to the top, mounted rental bikes, and spent an hour riding the bumpy road that is the top of the wall. The distance around the entire wall is 12 kilometers. We did not have enough time to make the total trip.
We checked into the Days Hotel in the afternoon and went to a special dumpling restaurant where we ate 18 different varieties of dumplings! After dinner we attended a Tung Dynasty stage show with singers and an orchestra of ancient Chinese instruments. Dancers were dressed in costumes of the Tung Dynasty doing many spectacular, traditional dances.