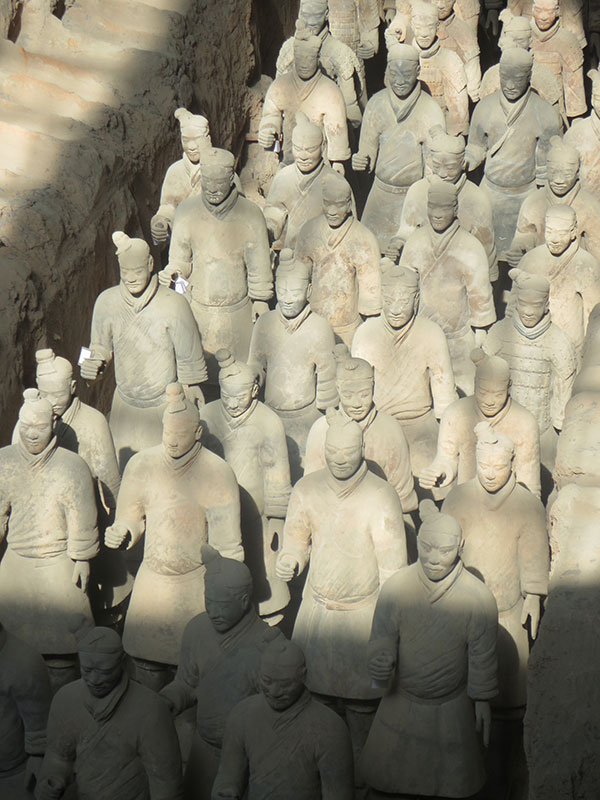 We rode to the site of the Terra Cotta Warrior excavations early in the morning. The air was slightly smoggy but blue skies were visible. The Warriors were discovered by accident by a farmer digging a well in 1974. We would later meet the farmer in the museum shop where he was signing a book. This job and 20 Huan were bestowed upon him for reporting his discovery to the government.
The soldiers, their chariots and horses were the army of the afterlife for the Emperor Chin. All of the uncovered statues (each one completely unique) had to be pieced together as they had been destroyed by a general and his troops after Chin had died and was buried. The archeologists were working in several areas as we visited the three different covered structures. Thousands more statues are still buried and, we were told, anther 50 years will be needed to complete the project. Lunch and a museum shop stop were included in our visit to the archeological site.
On the way back to Xi'An we stopped for a calligraphy demonstration, giving each of the kids an opportunity to learn something about the written language and a chance to create some characters themselves. Some of the group participated in a tea ceremony as well.
After a brief stop at the hotel we left for dinner, then on to the concert site in the New Development District Concert Hall. We were greeted by an impressive full stage size backdrop poster featuring a picture of MYO (full-size figures) on stage at Carnegie Hall, and including a 6 foot portrait of Scott Stickley! We were disappointed that they did not inclug de Sandra Baskin's portrait as well, not affording the choral director the same respect as the male conductor. The concert commenced at 8pm before a full house of appreciative local citizens. The performers were, of course, excellent and were very well received.
Tomorrow on to Guilin!