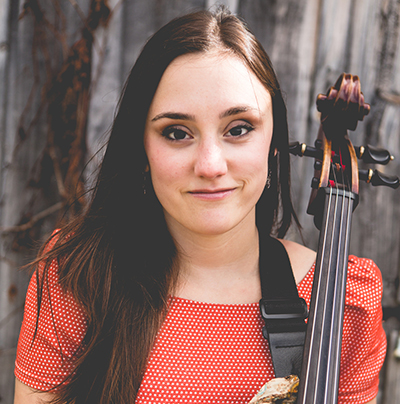 Cellist, Kaitlyn Raitz, Class of 2007, grew up surrounded by an array of musical genres, finding each one more exciting than the next. These passions have led her to a career as a versatile cellist who is equally at home playing Schubert or Sondheim, sitting in on a bluegrass jam or reading a Beethoven string quartet, and performing on stage at Carnegie Hall or The Bitter End.
Kaitlyn has worked with such diverse artists as Frank London of the Klezmatics, hip-hop artist and composer Cobaine Ivory, tabla player Shawn Mativetsky, as well as numerous folk and jazz artists. Kaitlyn has been invited to join Matt Haimovitz's innovative, GRAMMY-nominated cello ensemble Uccello and has performed with them at Carnegie Hall and Berkeley's Cal Performances. Her most recent project, Bride & Groom, has toured Canada and America playing numerous venues and festivals. She has also collaborated with numerous dance companies including New York City based MixTape Dance and Sidra Bell Dance.
As an educator, Kaitlyn believes in the value of exposing young people to a wide range of genres, including music of different cultures, as a way to create not just well-rounded musicians, but well-rounded human beings. Since 2008, Kaitlyn has been the director of the Southampton String Festival (Long Island, New York), a music camp for children that integrates classical training, improvisation, creativity, and musical discovery into one program.
Kaitlyn currently holds a Bachelor's degree and a Performer's Certificate from Purchase College, State University of New York where she studied with Julia Lichten and a Master's degree from McGill University where she studied with Matt Haimovitz.
Kaitlyn Raitz, Cello
MYO Class of 2007