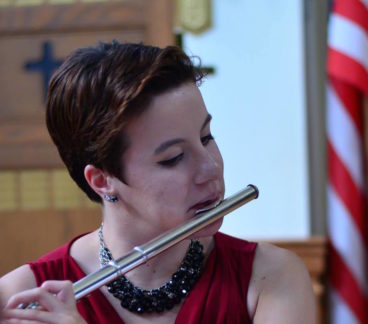 Leah Stevens played flute with MYO's Suffolk Principal Orchestra for six years since its opening season in 2008. After graduating high school and leaving MYO, she began working on her undergraduate studies at the Cleveland Institute of Music for a bachelor's degree in Flute Performance, as well as a minor in Art History through Case Western Reserve University. Leah has studied with world- renowned flute instructors, including Stefan Hoskuldsson, principal flutist of the Chicago Symphony Orchestra, and her current teacher Joshua Smith, principal flutist of the Cleveland Orchestra. Over the summer, Leah attends flute workshops and other musical events to enrich her education, most notably playing principal flute on Beethoven's 7th Symphony with the New York Youth Symphony during their 2015 Argentina tour.
In addition to her studies and performances, Leah is active in CIM's award-winning Distance Learning Department, which delivers interdisciplinary music courses to elementary, middle, and high schools, as well as senior centers, via video conferencing technology. Much like running a live television show, Leah currently teaches a course in this department to elementary students called "Science of Sound Junior," which educates the students on sound waves through hands-on activities and live performances.
In her free time, Leah enjoys practicing yoga, working at a doggy daycare, and rooting for the Chicago Cubs! After completing her undergraduate and eventually graduate studies, she plans to make a career out of performing, teaching, and organizing outreach events to bring art and music to the community.