The Metropolitan Youth Orchestra of New York
13 Myrtle Street, 2nd Floor
Manhasset, NY 11030
www.myo.org
FOR IMMEDIATE RELEASE
DATE: May 28, 2014
CONTACT: Anthea Jackson, Executive Director
Phone: 516-365-6961
Email: ajackson@myo.org
MYO Alumni Concert Featuring Guest Soloist Stanley Drucker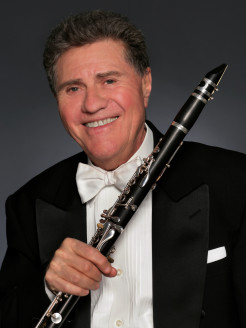 The Metropolitan Youth Orchestra of New York (MYO) is thrilled to present our second annual MYO Alumni Choir and Orchestra concert on Sunday, June 1 at 3PM in the Adelphi University Performing Arts Center with guest soloist Stanley Drucker, former principal clarinetist with the New York Philharmonic. Mr. Drucker will perform Weber Clarinet Concerto No. 2 with the Alumni Orchestra, which will feature close to 100 high school seniors and alumni. The concert will also include works by Berlioz, Dvorak, and Tchaikovsky, led by orchestra directors Scott Stickley and Phil Preddice and choir directors Shoshana Hershkowitz and Edward P. Norris III.

Stanley Drucker
At the conclusion of the 2008-2009 Season, New York Philharmonic Principal Clarinet Stanley Drucker celebrated 60 years as a member of the Orchestra. In honor of this milestone anniversary, he became an honorary member of the Philharmonic Society of New York, the first orchestral musician so honored.
The Philharmonic estimates that he has performed in 10,200 concerts, which is approximately 70% of the total number of their concerts since 1842. He has been Principal Clarinetist for a record 48 years, making close to 200 appearances as soloist and chamber musician with the orchestra. He played under nine Music Directors, among them Bruno Walter, Dmitri Mitropolous, Leonard Bernstein, Pierre Boulez and Zubin Mehta. He has performed in 60 countries on tour. He is listed in the Guinness Book of World Records as "Longest Career as a Clarinetist."
The Metropolitan Youth Orchestra of New York
The Metropolitan Youth Orchestra of New York is committed to fostering a community of talented young musicians from the greater Long Island area, providing them with an opportunity to rehearse and perform orchestral and choral masterworks at the highest possible level with recognized leaders in music education and performance. Founded in the fall of 1993 by John C. McNeur, MYO has grown from one orchestra of fifteen members to seven orchestras, a flute choir, and six choral ensembles, serving over 900 young musicians between the ages of 8 and 18 throughout the Nassau and Suffolk counties of Long Island. For more information, please visit www.myo.org or call (516) 365-6961.
PHOTO: MYO Alumni Concert Guest Soloist Stanley Drucker, Former Principal Clarinetist with the New York Philharmonic