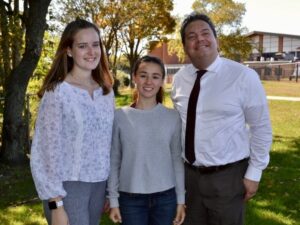 Levittown Kids Chosen for Metropolitan Youth Orchestra Programs
Published: October 21, 2019 at Patch.com
By: Daniel Hampton
LEVITTOWN, NY — Four talented Levittown students have been chosen to join the Metropolitan Youth Orchestra of New York's choral and orchestra programs.
The students — from Jonas E. Salk Middle School, Division Avenue High School and General Douglas MacArthur High School — had to audition and qualify based on certain ensemble criteria, the district said in a news release. Student-musicians who play an instrument must play at a New York State School Music Association level 4 or higher. While there is no minimum level for the concert choirs, Nassau Symphonic Choir and Chamber Chorale vocalists are expected to sing at least at level 5.
The students will rehearse and perform with their ensembles at different concert venues throughout the 2019-20 season, including at Adelphi University and Queens College. All students will perform at Carnegie Hall on May 31.
Jonas E. Salk Middle School
Seventh grader Zara Gill will perform as a soprano in the Nassau Concert Choir.
Division Avenue High School
Tenth grader Sean Munoz will perform the trumpet in the Nassau Concert Orchestra.
General Douglas MacArthur High School
Eleventh grader Bridget Paddock will perform the violin in the Nassau Symphony Orchestra.
Twelth grader Alexandra Mercaldo will perform as an alto in the Nassau Symphonic Choir.