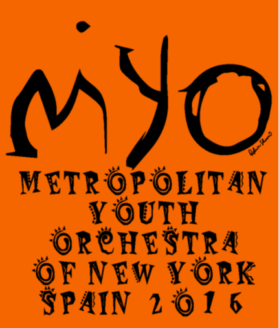 Hello and welcome to the MYO Spain Tour blog! Our names are Emma Iadanza and Laura Vega, two violinists from the MYO Spain Tour Orchestra, and we will be running the blog throughout our journey to Spain. This will be Emma's second MYO Tour.
This past week, the MYO Tour Orchestra and Choir were busy preparing exuberant repertoires fit for the large concert halls they will be performing at in Spain next week.
The tour has over 105 participants, making it the largest tour MYO has ever had. This includes the orchestra and the choir members, chaperones, as well as the shadow tour participants who will travel alongside the musicians and singers. The size of this tour is a huge jump from our last tour to China in 2014, which had only 55 musicians.
After each day's rehearsals, there were tour meetings with all tour participants and parents. Tour t-shirts (designed by Robin Shum) were distributed, Mr. Stickley, the orchestra conductor, demonstrated how to efficiently pack a suitcase, and Scott Wilkolaski, the Herricks HS Spanish teacher, gave a small lesson on Spanish language and culture.
On Thursday night, the choir and orchestra performed their repertoire at a Bon Voyage concert at Manhasset Secondary School, where they had been rehearsing all week. Including the concert, the musicians and singers had rehearsed for over 25 hours in just four days. While it was exhausting, it was certainly worth all of our hard work! The concert ended with a standing ovation after the orchestra and choir's combined performance of America the Beautiful.
With just one more brush up rehearsal left for the tour choir and orchestra before we leave, everyone is very excited for our Wednesday evening departure to our first stop, Madrid! We will keep you updated on the group's activities once we arrive in Spain!
¡Buen Viaje!
Please Like our Facebook page and follow us on Twitter for the most up-to-date MYO news!