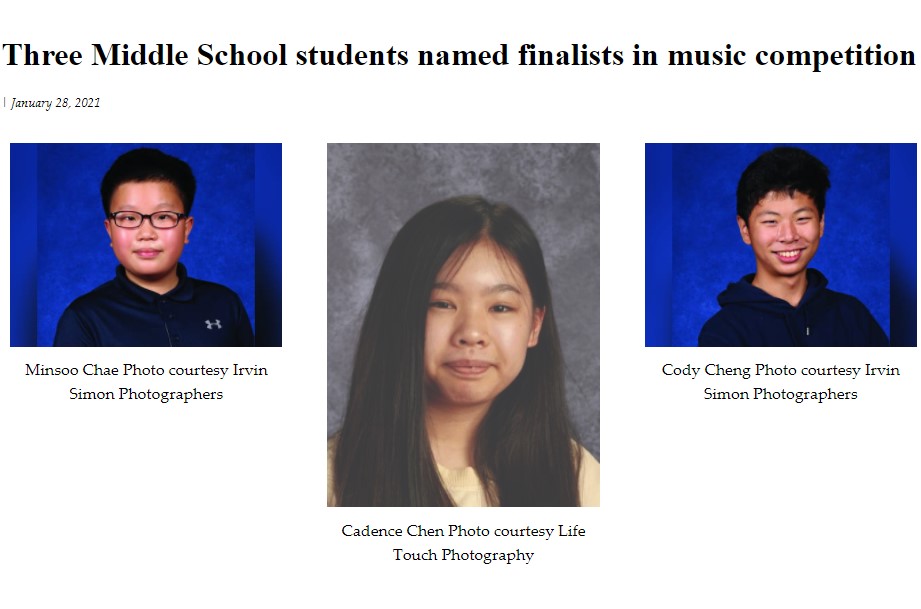 Three Middle School students named finalists in music competition
Published: January 28, 2021 at syossetadvance.com
Three Syosset middle school students have been named as finalists in the Metropolitan Youth Orchestra (MYO) of New York's Concerto and Vocal Competition.
South Woods Middle School students Minsoo Chae (Gr. 6) and Cody Cheng (Gr. 8) and H. B. Thompson Middle School student Cadence Chen (Gr. 8) are all Instrumental Finalists in Division I representing grades 4-8. Minsoo, Cody and Cadence, who play the violin, cello and viola respectively, each submitted a video audition recording of themselves performing one movement from a concerto. They are among 16 total finalists from Grades 4-12 who will be featured in a virtual Finalists Concert on February 3, 2021 on Zoom.
Winners will be selected based on their performances at this concert by a panel of esteemed judges. Students will be competing for a first place prize of $500 and a chance to perform as a solosit with their MYO ensemble during the 2021-2022 season.
The mission of the Metropolitan Youth Orchestra of New York (MYO) is to foster a community of talented young musicians from Long Island and provide them with an opportunity to rehearse and perform choral and orchestral masterworks at the highest possible level with recognized leaders in music education and performance.