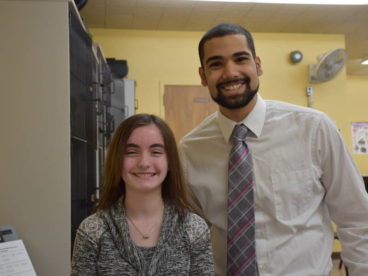 Tess Kurtzman will be performing with the Metropolitan Youth Orchestra of New York this summer.
Wantagh-Seaford Patch – Read the article on Patch.com
Published: February 7, 2018
By: News Desk
From Wantagh School District: Tess Kurtzman, an eighth-grade student-musician at Wantagh Middle School, has been selected to perform with the Metropolitan Youth Orchestra of New York's European Tour this coming summer. Under the baton of MYO conductor Shoshana Hershkowitz, Tess will perform on Long Island prior to a two-week stint in Berlin, Dresden, Prague, Vienna and Budapest.
The MYO fosters a community of talented young musicians from Long Island with opportunities to rehearse and perform choral and orchestral masterworks at the highest level possible with recognized leaders in musical education and performance.
Tess explained that she first applied for a place with the MYO when she was in fourth grade and was accepted to perform with the choral group the following year. Since her association with the MYO, Tess has performed in Carnegie Hall twice and says she still gets a thrill out of the experience.
"It is such a fun experience to perform in front of such a large audience," she said. "It is also a thrill to share the experience with the choir."
Tess, who is a soprano, is a four-time All-County musician, president of the a capella club and a member of the school's drama club, where she has performed in "The Adams Family" and "Mary Poppins." She is also a member of the St. Francis Theatre Group with whom she has performed in "Shrek" and "Legally Blonde."
Although singing is her passion, Tess is also learning to play the piano and is currently taking a music production class. She said she plans on pursuing a career in music upon graduation.
The Wantagh School District congratulates Tess on this outstanding accomplishment.
Photo courtesy of the Wantagh School District: Wantagh Middle School eighth-grader and member of The Metropolitan Youth Orchestra of New York Tess Kurtzman is pictured with music teacher Matthew Carlin.