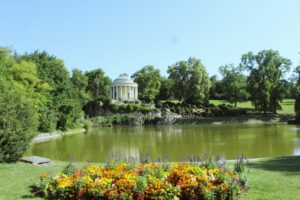 Today we left Vienna at 8:15 AM. Most of us were sad to leave, Vienna has been such a wonderful place to visit and our concert at St. Stephen's has by far been one of our favorite performances as MYO members.
On our way to Budapest, we made a stop in Eisenstadt to visit Schloss Esterházy. We had a tour through the palace which allowed us the ability to take a look into what life would be like as Austrian royalty. The coolest room in the palace was Haydn Hall. The hall had beautiful artwork from the floor all the way up to the ceiling and on the ceiling as well. Honestly, it looked like a much fancier version of Cheesecake Factory. Obviously, it had much more history than the Cheesecake Factory does, but I couldn't stop thinking about their lobster wontons the entire time I was in the place.
After our magical visit in the palace pretending to be Austrian royalty, we had some time to grab lunch in the downtown area. Gelato, fresh fruit, delicious pasta, and even chicken nuggets were on the menu! Unfortunately, though, there came a time to get back on the bus and head towards Budapest. And thank goodness, too. I, and a lot of others, needed a well-deserved nap. A short three hours later, we arrived in Budapest and checked into our hotel. When we first walked in, it was absolutely gorgeous! The rooms… not so gorgeous.
About an hour after check in, we got into groups and made the short walk to our first dinner in Budapest! The salad, bread, and entree were delicious. The dessert left something to be desired as it wasn't gelato but it was okay. Next, we headed as a group down to our great new friend, the Danube River! We spent the next hour and a half on a boat allowing us to see the beauty of Budapest come to life as the sky went to sleep.
Uplighting on some of the most gorgeous buildings I have ever seen was easily the highlight of the trip so far. I can assure you, the gorgeous pictures that resulted from our boat cruise will make you wish you had been on the boat with us.
Unfortunately, the boat cruise ended sooner than later and we headed back to the hotel. Hopefully tomorrow's adventures will allow us to fall harder in love with the city of Budapest than we already have.
~Amanda Sheehan