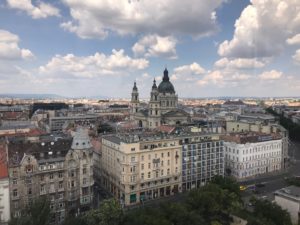 Oh my goodness. I cannot believe today was the last day of the MYO 2018 European Tour. This truly has been a life altering experience and I owe so much to the people at MYO for giving each and every one of us the opportunity to experience so much culture, make so many memories, and perform in the most spectacular venues.
Anyway, today we split up into two groups. The first group went to the Budapest Thermal Spa Baths for a swim in the pools and the second made their way downtown for ample shopping opportunities. We all met up at the Budapest Eye. The Eye was the perfect way to see every incredible building in Budapest from an aerial view we never thought we would get. After The Eye, we grabbed some lunch then headed back to the hotel. Everyone checked in with their small groups at 4:30 PM and then had some time to get dressed up for our final dinner. At 6:00 PM we were on our way!
The restaurant had been converted from a wine cellar which had been in use during the late 1800s. Massive barrels were converted to intimate booths and the main room (where we ate) was at least three times longer than it was wide. The room was complete with dim lights, a stage at the front of the room, and brick walls which reminded you of how old the building was. Our dinner was cooked fresh in front of us by two chefs, Mr. Stickley, and Mrs. Baskin! It was hilarious to see them stirring up our dinner in their chefs hats. Soon, the performance was starting. Several instrumentalists and dancers filled the stage and brought up guests such as Leo Cronan and Mrs. Hershkowitz!
After dinner, the "Last Feast Traditions" began. Mrs. Hershkowitz read several original haikus about the antics, experiences, and love shared throughout the tour. It was fun to listen to a recall of everything that happened over the trip from another voice. Next, Mr. Stickley sang a song which he composed which he believed summed up the trip. I fell in love with the song just as I did on the Spain trip and knew the chorus within seconds. "Auf Wiedersehen… Auf Wiedersehen… It's time to say gooood byyyyyyeee!" Lots of videos were taken, tears were shed, and memories were made at our final feast in Europe.
Once we got back to the hotel, we had exactly four hours until we had to be awake and on the bus to head to the airport. Tomorrow will be full of travel and fun. Can't wait to see all of you at home!
~Amanda Sheehan