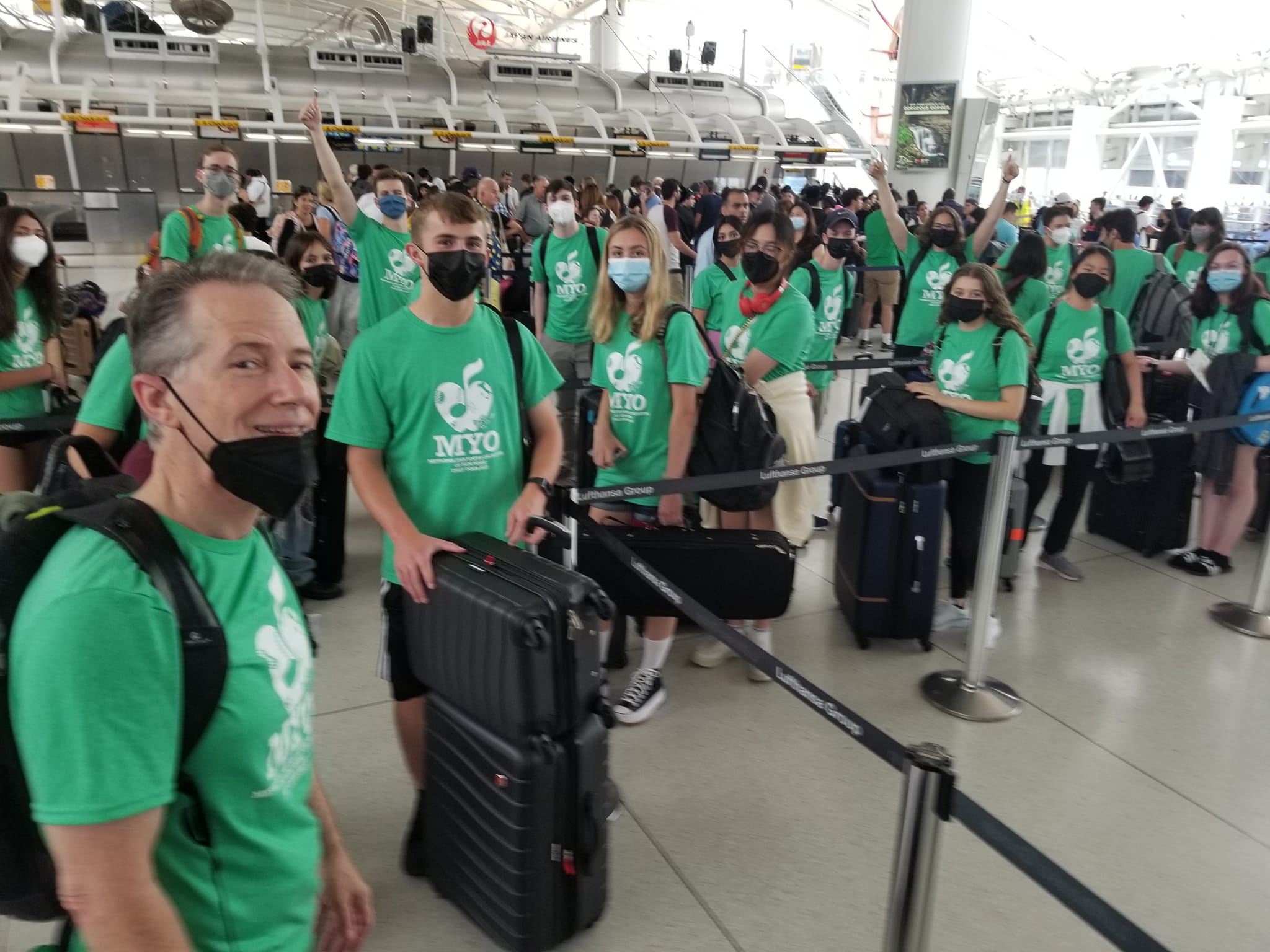 At 8:45 AM, breakfast was over and we were asked to meet in our chaperone groups in the lobby. During this meetup, we sang a beautiful rendition of Happy Birthday to Molly Perrone who turned 18 today! After everyone was definitely present, we boarded the buses.
The time has come, ladies and gentlemen! You've been served the hors d'oeuvres, now it's time for the fun to begin.
It's 12:50, and I'm on the AirTrain to the airport. I step into Terminal 1 just moments before our 1:00 meetup time, and it takes me about five seconds to locate the rest of the MYO tribe after spotting all the green shirts waiting by the check-in desk. We complete our check-in procedure with Lufthansa in short bursts, and successfully check all of our luggage. It is now that we must say goodbye to the families and friends who will be waiting for us when we return. Though often one of the most difficult moments of the tour, the love and support they have given us in allowing us to embark on this incredible journey will be felt throughout the next two weeks.
All right, I think that's a good place to cut my dramatic introduction! After we cleared security at the airport, we anxiously awaited our boarding time as a handful of our friends went on the hunt for some food. Boarding went smoothly and we were out of JFK in no time. The flight was around six and a half hours which, although it sounds long, actually went by quite fast with a couple of movies and trivia battles on the in-flight entertainment system. I personally enjoyed Dr. Seuss' The Lorax for the millionth time in my life, and it still never gets old. The pasta we were served for dinner was also fairly decent, though my friends may disagree. And they—well—let's just say that most of them probably would. Almost everyone slept, but unfortunately that did not include me, and probably won't for the rest of our flights. I don't know what it is with me, but I just can't seem to fall asleep on planes!
Fast-forward to around 6:00 the next day (today for me) and we have landed in Frankfurt, Germany with ample time to catch our connecting flight. Or that's what we thought, until we had to walk the entire length of the airport to reach our next gate. I would have been content walking to Italy instead. By then, everyone was either extremely tired or extremely antsy after sitting still for so long. This continued into our one-hour-long connecting flight to Milan-Malpensa, as everyone was either out cold once again or unable to stay put. I know it, because I'm sitting here writing about it as we speak. So, if you'll excuse me for now, I really need to get off this plane as fast as possible. We're about to hit the ground in Italy!